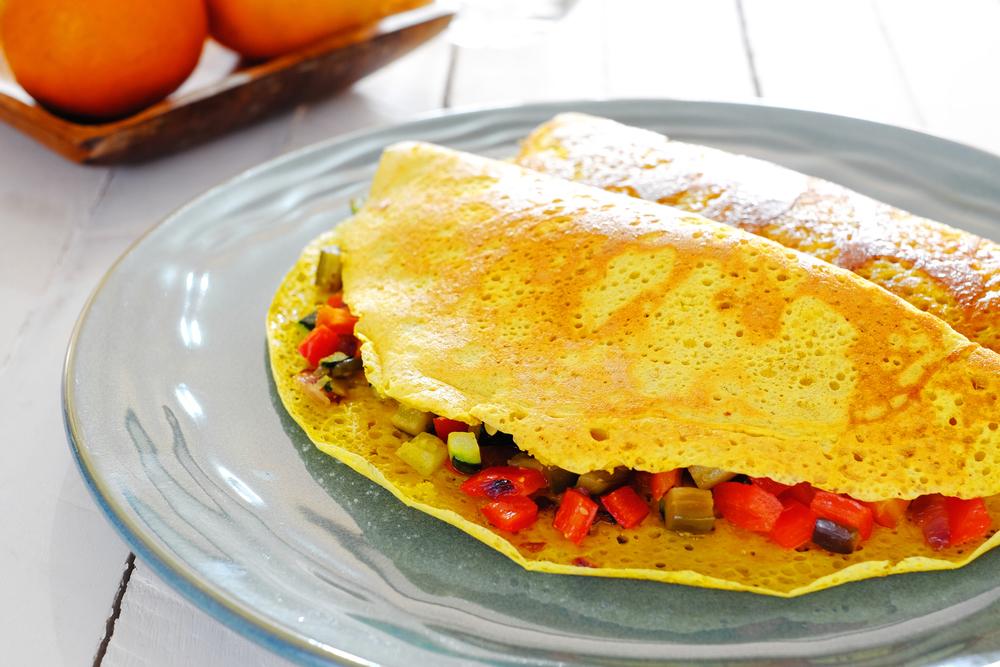 Ingredients
for 2 omelettes
For the batter

95g/3oz chickpea flour
185ml/6.25fl oz soy milk
7g/0.25oz yeast
30ml/1fl oz apple cider vinegar
1/4 tsp. turmeric powder
1/4 tsp. garlic powder
1/4 tsp. baking soda
1/2 tsp. salt
For the filling

50g/2oz shallots, finely diced
20g/0.75oz garlic, minced
50g/2oz bell pepper, finely diced
50g/2oz tomatoes, finely diced
50g/2 oz eggplant/aubergine, finely diced
75g/2.5oz zucchini/courgette, finely diced
15ml/0.5fl oz olive oil
Salt
Pepper
Prep. Time → 10 min
Cook Time → 10 min
1. Whisk all ingredients for the batter in a bowl. Leave to rest for 10 minutes.
Heat olive oil in a pan. Sautee all vegetables until tender. About 3-5 minutes. Season with salt and pepper.
Pour about half a cup of the batter into a non-stick pan. Swirl around and cook until top is bubbly. About 2 minutes.
Put sauteed vegetables on the batter.
Fold then cover and cook over low heat for 2 more minutes.
main courses, breakfast, dairy-free, dinner, gluten-free, lunch, mains, recipes, vegan, vegetarian September 21, 2017 08:53
Author mynutricounter.com/vegan-r...
Share the recipe with your friends
No one has liked this recipe.
0 comments