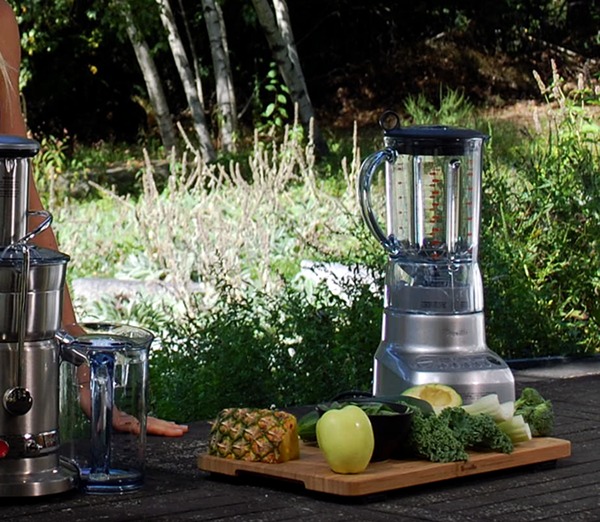 Ingredients
1 Golden Delicious apple -(There will be a definite WOW moment when your kids first see a whole apple go into its liquid nutrient form! The harder the apple, the more juice you will get, and go for Golden Delicious or Royal Gala. But avoid apples like Granny Smith that can overpower and taste a little tart.)
1 wedge of pineapple - a good source of Vitamin B1, C, and magnesium. The enzyme bromelin helps stabilize the acid-alkaline balance in the body.
1 cup of spinach - Kids normally turn their noses up at spinach. But mix it with the delicious sweet fruits, and there will be no protest.
2 leaves of kale (known as The green superfood)
1 small cucumber - Try to only get organic; otherwise they are often waxy. And you lose some of the nutrients when you cut off the skin.
2 stalks of celery - rich in Vitamins K and C and a great immune system booster.
1 lime - can be juiced with the peel on, so always buy wax-free, organic. If it's a little too zesty you can remove the skin next time.
1 stalk of broccoli - A bold flavor; supports the body's natural detoxification system; it's overflowing with Vitamin C, K, A and folate. Use the long stems because they are loaded with minerals and stems have more juice than the florets.
Ingredients (for blending)
1 avocado, peel off, seed out
1 cup ice
Directions
drinks, drink, smoothie, vegetables, fruits July 13, 2013 03:19
Author springpad.com/#!/Del_Monte/not...
Share the recipe with your friends
No one has liked this recipe.
0 comments