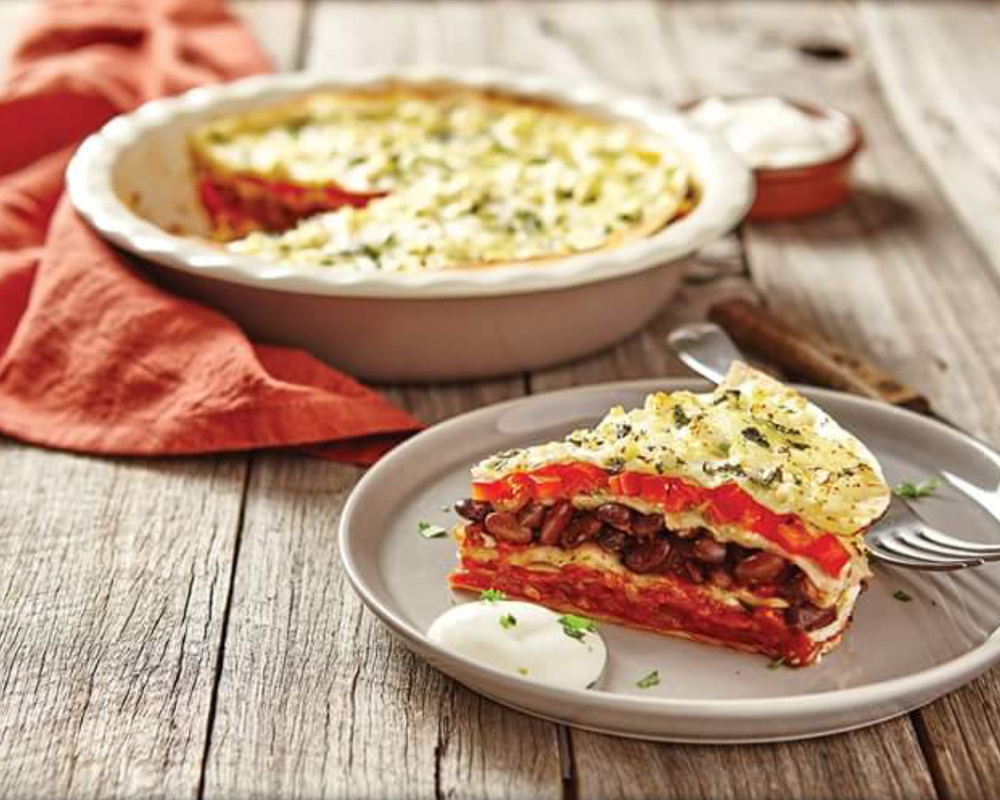 1 packet soft wraps
1 can red kidney beans
2 large tomatoes
1 cup Passata pasta sauce
1 onion
1 red capsicum
2 cups shredded cheddar cheese
1 cup crumble feta
Coriander
Olive oil
Sour cream to serve
Prep. Time → 20 min
Cook Time → 40 min
1. For Salsa: Dice onions and tomatoes into small cubes. Fry onion in frying pan with olive oil until transparent. Add the Passata, diced tomatoes, choppped coriander stalks and salt & pepper to taste. Cook for 10 minutes and set aside to cool.
2. Lasagne: Once cooled, spread a small amount of salsa on a round ovenproof pie dish. Add 2 wraps and a thick layer of salsa. Top with another wrap.
3. Add 1 cup of cheddar cheese and a sprinkle of feta. Top with another wrap.
4. Add a layer of drained kidney beans and then another wrap.
5. Add the remaining cheddar cheese and diced red capsicum.
6. Add final wrap and cover with foil. Bake 30 minutes, remove foil, add feta and coriander to the top.
7. Bake for a further 10 minutes uncovered.
8. Cut into wedges and serve with a dollop of sour cream.
main courses, coriander, mexican, vegetarian December 19, 2017 06:39
Author Wattle Valley wrapper
Share the recipe with your friends
No one has liked this recipe.
0 comments