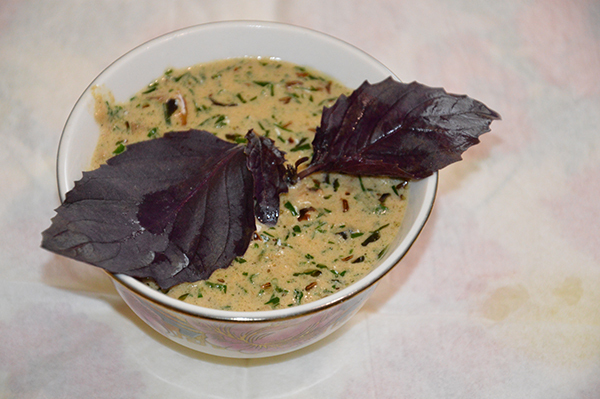 Ingredients
for 350 g of sauce
2 tsp olive oil
1 small onion
2 cloves of garlic
125 g ricotta or 150 g mozarella
60 ml cream
3 Tbsp fresh parsley
1 Tbsp thyme
1/2 tsp salt
1/4 tsp black pepper
Prep. Time → 5 min
Cook Time → 17 min
1. Mix mozarella and cream until dense. Put the mixture aside.
2. Heat up the oil in frying pan on medium heat. The oil is heat when it begins to glimmer.
3. While oil is heating up, shred the onion and when the oil will heat add shredded onion to it and fry for 5-6 minutes. The onion must become half-transparent and soft. Constantly stir it while frying. You can also use onion flakes instead of a real onion.
4. After 5-6 minutes since the frying began add chopped garlic to onion and fry for 1 more minute. The garlic must become fragrant.
5. After a minute add a mixture of cream and mozarella, decreasing the heat to low. Cook for 3 more minutes. The sauce must slowly boil in the process of cooking.
6. When the sauce becomes thin, remove it from heat, add parsley, thyme, salt and pepper. Mix it all by a wooden spoon. Let the sauce cool to room temperature before using it on pizza.
appetizers, delicious, garlic, italian, onion, pepper, pizza, ricotta, salt, sauce, tasty, vegetables, thin, mozarella June 23, 2014 12:14
Author Marina Peskova (cookpass.ucoz.com/)
Share the recipe with your friends
No one has liked this recipe.
0 comments