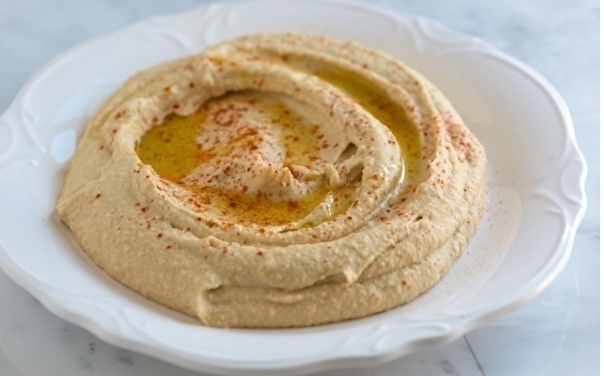 Ingredients
1 19oz can chick-peas (garbanzo beans) drained 540 ml
3 tbsp fresh lemon juice 30 ml
1/4 cup vegetable broth 50 ml
(I use Knorrs Homestyle Stock Boullion)
2 tbsp Chick-pea liquid
1 tbsp balsamic vinegar 15ml
3 cloves garlic - minced
1/3 cup Tahini (sesame seed paste) 75ml
1 tsp ground cumin 5ml
1/4 tsp cayenne pepper 2ml
1 tsp coarse salt 5ml
1 tbsp extra virgin olive oil 15ml
red pepper flakes for garnish
note can substitute peanut butter for Tahini (I have never)
keep the chick-pea liquid to dilute the Hummas if necessary
Directions
1. 1. In a food processor (or blender) mince garlic. Add chick-peas, tahini, lemon juice, vegetable broth, chick-pea liquid, vinegar, cumin, cayenne, salt, olive oil, and mix well toll smooth
2. 2. If mixture appears dry, add more chick-pea liquid.
3. 3. Taste and adjust seasoning if necessary
4. 4. Transfer to serving bowl (makes about 1 1/2 cups) Serve with warm pita bread for dipping or toasted pita chips
appetizers June 23, 2016 16:46
Author Michele Poole
Share the recipe with your friends
No one has liked this recipe.
0 comments