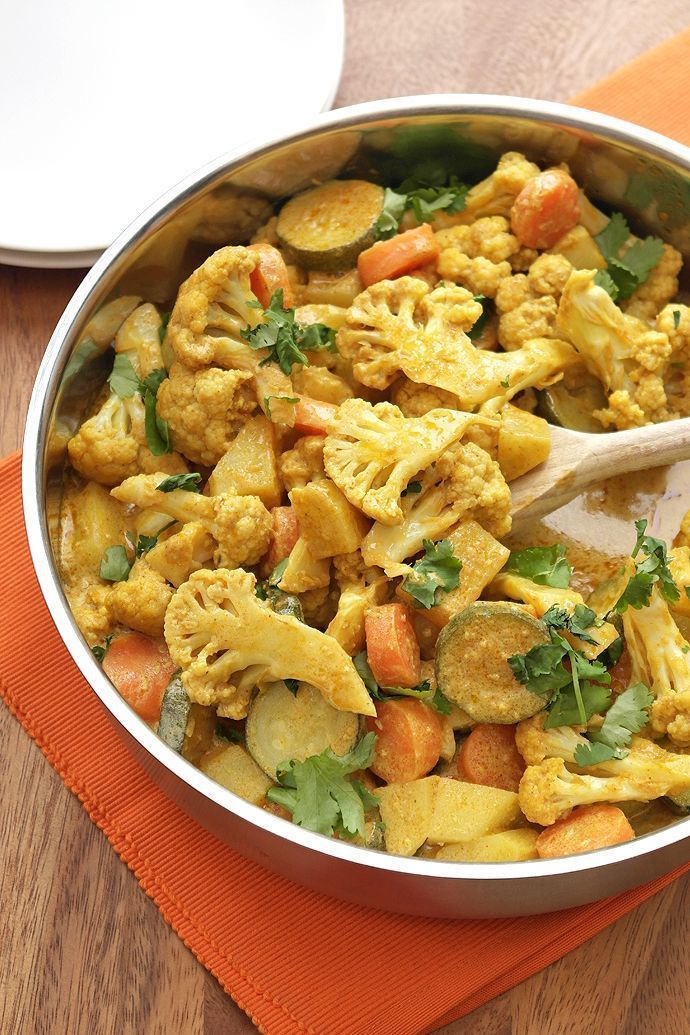 Ingredients
for 6 servings
1 tablespoon extra-virgin olive oil
1/3 cup chopped onion
1/2 cup chopped carrot
2 teaspoons curry powder
3/4 teaspoon kosher salt
1/2 teaspoon freshly ground black pepper
1/2 teaspoon ground ginger
1/4 teaspoon garam masala
2 garlic cloves, minced
20 oz fresh cauliflower florets
1/2 cup sliced zucchini
1/2 cup peas
1 (350g/12 oz) pkg extra firm tofu, cut into ½-inch cubes
2 1/2 cups vegetable broth
1 cup plain yogurt or coconut milk
Prep. Time → 15 min
Cook Time → 20 min
1. Heat oil in a large nonstick skillet over medium. Add onion and carrot; sauté 2 minutes or until onion is translucent. Stir in curry powder and next 5 ingredients (through garlic); cook 1 minute or until fragrant. Add cauliflower and zucchini; cook 5 minutes or until browned, stirring occasionally. Add peas, broth, yogurt or coconut milk, and tofu (if using); bring to a simmer. Cover, and cook 12 minutes or until cauliflower is tender. Remove pan from heat. Serve over rice.
main courses, cauliflower, indian, multi-day, dinner, lunch, fall, winter September 26, 2017 06:24
Author cookinglight.com/recipes/c...
Share the recipe with your friends
No one has liked this recipe.
0 comments