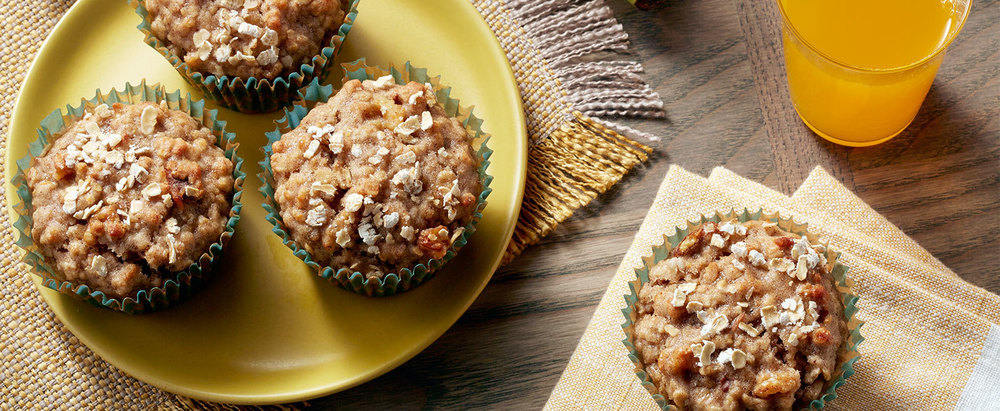 Ingredients
for 12 muffins
cooking spray or oil mister
1 1/2 cup quick-cooking oats
1 1/4 cup unsweetened almond milk
1/2 cup packed dark brown sugar
1 cup mashed ripe bananas
2 large egg whites
2 tbsp honey
1 tbsp avocado oil
1 tsp pure vanilla extract
1/2 cup white whole wheat flour
1 tsp baking powder
1/2 tsp baking soda
1/2 tsp kosher salt
3/4 cup chopped walnuts
1. Preheat oven to 400F. Line a standard muffin tin with 12 liners and lightly spray the liners with oil.
2. Pour oats into a large bowl, add the almond milk and mix well; soak for about 30 mins.
3. Add the brown sugar, mashed bananas, egg whites, honey, oil and vanilla to the oats and mix well.
4. In a medium bowl, whisk together the flour, baking powder, baking soda, and salt. Slowly add flour mixture to the liquid mixture and mix with a spatula until just incorporated. Fold in the walnuts. Pour the batter into the prepared muffin tin.
5. Bake until a toothpick inserted comes out clean, 24 to 28 mins. Let cool before serving.
6. You can freeze what you don't eat in a freezer safe zip-top plastic bag. Pop frozen muffins in the microwave to reheat or warm in a toaster oven.
March 27, 2021 17:20
Share the recipe with your friends
No one has liked this recipe.
0 comments