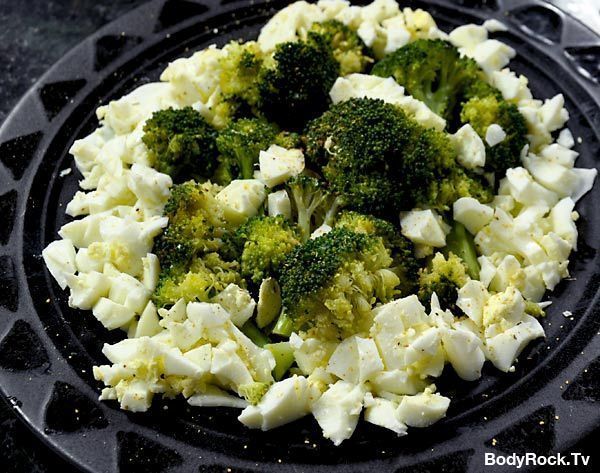 Ingredients
for 1 person.
3 Omega-3 Eggs.
1 Steamable Bag of Broccoli (The brand Birdseye has it in the freezer section of your grocery store).
Sea Salt.
Black Pepper.
Piece of Whole Wheat Bread or Whole Wheat Tortilla (optional).
1. Get a small pot and boil some water for the Eggs.
2. When pot is boiling, add in the three Eggs.
3. Cook for about 9-10 minutes.
4. Microwave the Broccoli for as long as the package says.
5. When Eggs are done, remove them from the boiling water in to cold water. Then remove the shells.
6. Take the peeled hard boiled Eggs and remove the yolks. Take one of the yolk and cut in half. Discard the other 2 & 1/2 yolks.
7. Take a plate and mashed up the the boiled Egg Whites, sprinkle that half of an egg yolk over them.
8. Season with Salt and Black Pepper.
9. Take a handful or two of the steamed Broccoli and place it over the bed of Egg Whites. Slightly seasoning the Broccoli as well. (This can be good for breakfast or lunch so just store any leftover Broccoli to use in a recipe for dinner or for the next morning.)
10. (Optional) Have with a piece of Whole Wheat Toast or inside of a Whole Wheat Tortilla.
main courses, eggs, bread, vegetarian, healthy, easy, quick, whole wheat, tortilla, broccoli May 08, 2011 02:57
Share the recipe with your friends
No one has liked this recipe.
0 comments