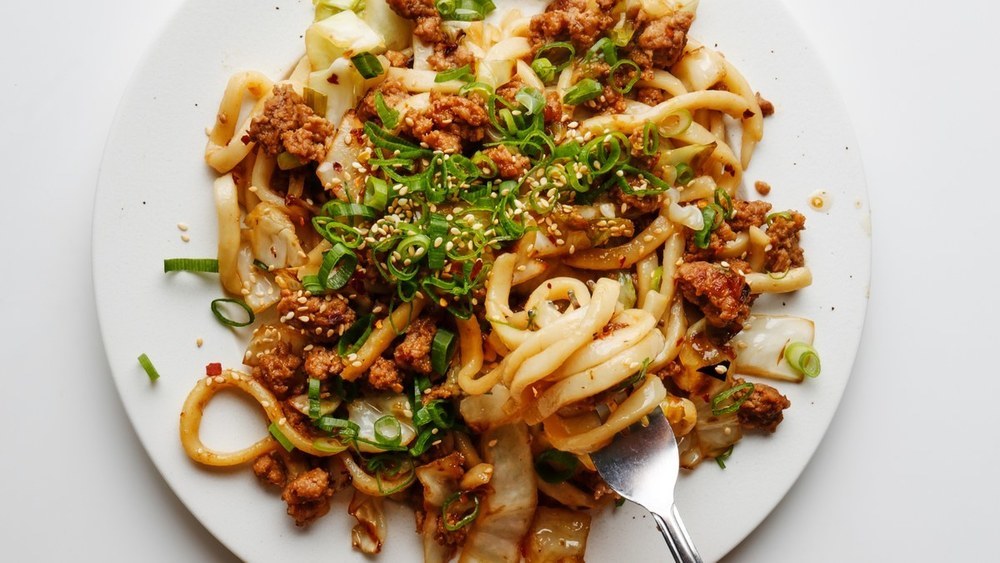 Ingredients
2 tbsp olive oil
4 cups very coarsely chopped green cabbage (and/or any veggies you want - spinach, broccoli, carrots, celery, etc etc) (last time I used a couple of bags of Mann's Power Blend which is brussels sprouts, napa cabbage, kohlrabi, broccoli, carrots and kale - Really Good!!)
2 - 7 oz packages of udon noodles (use fresh or frozen)
2 tsp toasted sesame oil
1 lb ground pork (or any protein you want - chicken, beef, prawns, etc etc)
5 green onions, white and pale-green parts coarsely chopped, dark-green parts thinly sliced
2 tsp finely grated fresh ginger
1/2 or 3/4 tsp crushed red pepper flakes
1/3 cup mirin (or you can use white wine with 2 tsp of sugar)
1/3 cup soy sauce
1 tbsp toasted sesame seeds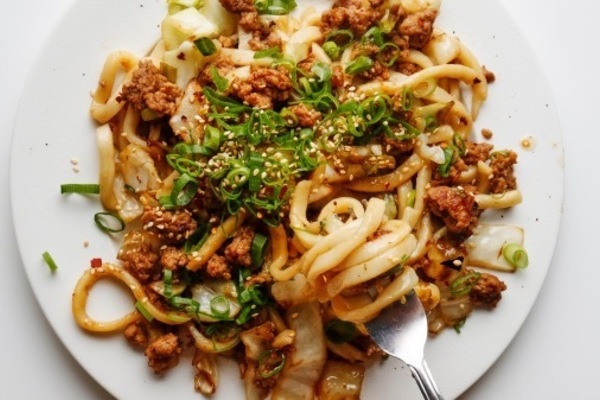 1. Heat 1 tbsp oil in large skillet over med-high heat. Add cabbage and/or whatever veg you are using and cook, tossing often, until just tender. Remove skillet from heat and set aside.
2. Place udon in large pot of boiling water, remove from heat, and let sit for 1 min, stirring to break up noodles. Drain in a colander. Transfer noodles back into pot and toss with sesame oil. Transfer veg to pot with noodles.
3. Heat remaining 1 tbsp oil in skillet over med-high heat and add pork, breaking up and spreading across surface of pan. Cook pork, undisturbed, until underside is brown, about 3 mins. When browned, break up the meat into small bits. Cook tossing just until there is no more pink. Add chopped green onion (pale parts), ginger and red pepper flakes. Continue to cook, tossing often, until green onions are softened, about 1 min. Add udon mixture, mirin, and soy sauce and cook, tossing constantly, until noodles are coated in sauce. Remove from heat and fold in sesame seeds and dark green parts of green onion.
main courses May 22, 2018 17:38
Author Bonappetit
Share the recipe with your friends
No one has liked this recipe.
0 comments