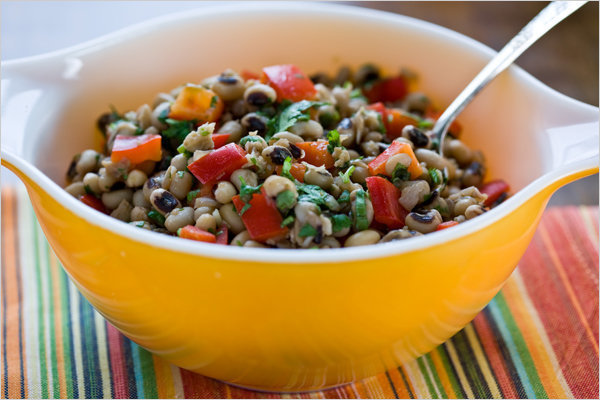 Ingredients
for 6 to 8 servings
FOR THE BEANS
1 tablespoon extra virgin olive oil
1 medium onion, chopped
3 or 4 garlic cloves, minced
1 pound black-eyed peas, washed and picked over
6 cups water
1 bay leaf
Salt to taste
FOR THE DRESSING AND SALAD
¼ cup red wine vinegar or sherry vinegar
1 garlic clove, minced
Salt and freshly ground pepper to taste
1 to 2 teaspoons lightly toasted cumin, ground (to taste)
1 teaspoon Dijon mustard
½ cup broth from the beans
⅓ cup extra virgin olive oil
1 large red bell pepper, diced
½ cup chopped cilantro
1. Heat 1 tablespoon olive oil in a large, heavy soup pot over medium heat and add the onion. Cook, stirring, until tender, about 5 minutes. Add half the garlic and cook, stirring, until the garlic is fragrant, 30 seconds to a minute. Add the black-eyed peas and the water and bring to a simmer. Skim off any foam from the surface of the water. Add the bay leaf and salt to taste (1 to 2 teaspoons). Reduce the heat, cover and simmer 30 minutes. Taste and add more salt if desired. Add the remaining garlic, cover and simmer until the beans are tender but intact. Taste and adjust salt. Remove from the heat and carefully drain through a colander or strainer set over a bowl. Transfer the beans to a large salad bowl.
2. In a pyrex measuring cup or a small bowl, whisk together the vinegar, garlic, salt, pepper, cumin, and mustard. Whisk in 1/2 cup of the bean broth, then the olive oil. Taste and adjust seasonings. Add a little more vinegar if you wish. Stir the dressing into the warm beans. Stir in the red pepper and cilantro, and serve, or allow to cool and serve at room temperature.
side dishes, lunch, multi-day, dinner, potluck September 03, 2017 16:09
Author https://cooking.nytimes.com/recipes/1...
Share the recipe with your friends
No one has liked this recipe.
0 comments