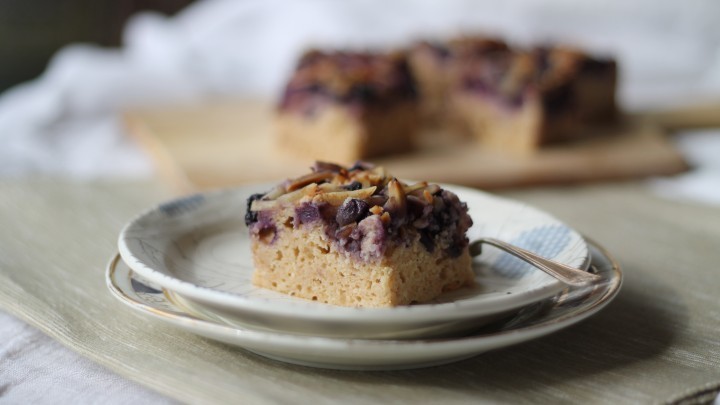 Ingredients
for 12 pieces
½ cup almond meal
1 cup wholemeal spelt flour
½ teaspoon baking powder
½ teaspoon bicarb soda
¼ teaspoon salt
¾ cup yoghurt
zest of a lemon
1 tablespoon lemon juice
1 teaspoon vanilla extract
2 eggs
½ cup Norbu
1 cup blueberries (fresh or unthawed)
3 teaspoon Norbu
1. Preheat oven to 170°C and spray a square cake tin with oil.
Combine almond meal, flour, baking powder, bicarb and salt in a medium bowl.
In a separate bowl, whisk together yoghurt, lemon zest, juice and vanilla.
Beat eggs and Norbu until light and fluffy and stir through the yoghurt mix.
Stir through flour mixture and pour batter into tin.
Sprinkle over blueberries and 3 teasp Norbu.
Bake for 30-40 minutes, or until an inserted toothpick comes out clean.
You may need to cover the top of the cake with foil for the last 5-10 minutes of baking, to prevent the almonds from burning.
desserts, baking, snacks March 12, 2015 02:28
Author Weigh It Up