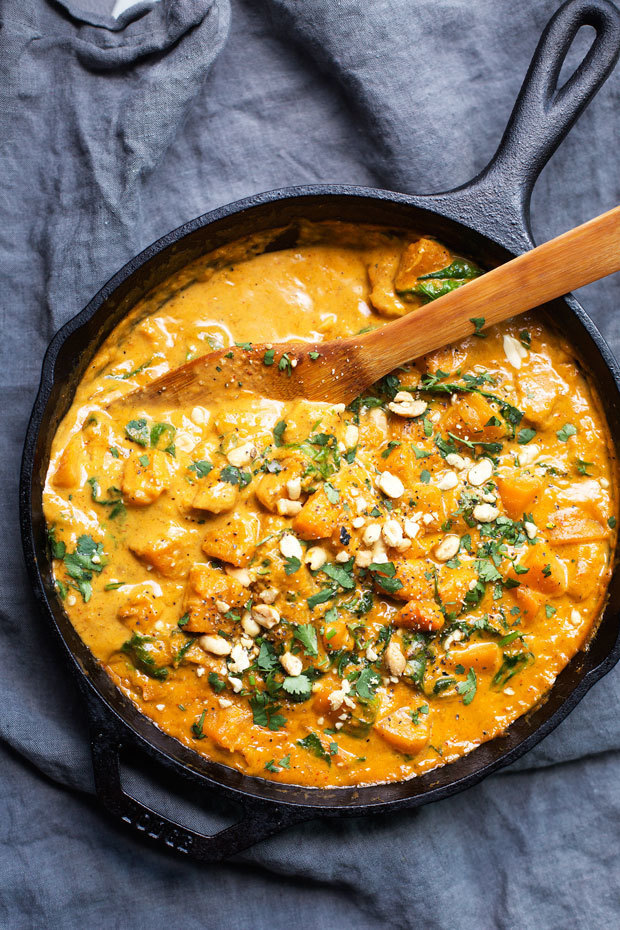 Ingredients
for 4 servings
1 tablespoons coconut oil (or any oil really)
1 large shallots, chopped (or 2 small)
2-2 ½ cups diced butternut squash (about 1.5 pounds)
2 cups diced carrots
1 tablespoon grated ginger
2-3 tablespoons red curry paste
½ tablespoon yellow curry powder
1 (15 ounce) can coconut milk
¾ cup vegetables or chicken broth
2 teaspoons fish sauce (omit for vegans/vegetarians)
2 teaspoons sugar
3-4 cups fresh baby spinach
basmati rice, crushed cashews/ peanuts, cilantro, lime wedges for serving
Prep. Time → 20 min
Cook Time → 15 min
1. Heat the oil in a large, deep skillet over medium high heat. Add the shallots and saute them for 5-6 minutes or until they just begin to get golden. Add the butternut squash, carrots, and grated ginger, stir to coat with the oil.
2. Add the red curry paste, yellow curry powder and stir until all the butternut squash is nicely coated. Continue to cook the curry paste for 2-3 minutes or until it's fragrant. Add the broth, coconut milk, fish sauce, and sugar. Let the sauce come to a simmer before covering. Lower the heat and allow the squash and carrots to cook all the way through, about 10 minutes. You'll know it's done when you can easily pierce the butternut squash with the tip of a knife. Stir in the baby spinach and allow it to wilt.
3. Serve with basmati rice topped with crushed nuts, cilantro, and lime wedges.
main courses, autumn, curry, fall, multi-day, thai, winter, vegetarian October 14, 2019 00:45
Author littlespicejar.com/thai-butter...
Share the recipe with your friends
No one has liked this recipe.
0 comments