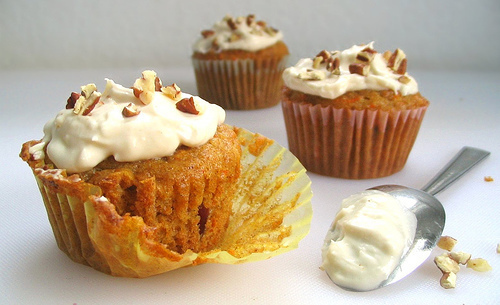 Ingredients
for 12 large cupcakes
2 eggs
140ml vegetable oil
200g soft light brown sugar
300g grated carrot
100g raisins
75g pecans, chopped
180g self-raising flour
Pinch of salt
1/2 tsp bicarbonate soda
1 tsp ground cinnamon
1/2 tsp ground nutmeg
1/2 tsp mixed spice
For the cream cheese icing
• 25g butter
• 150g cream cheese
• 500g icing sugar
• 1tsp vanilla extract
Prep. Time → 15 min
Cook Time → 20 min
1. Preheat the oven to 180°C / 170C fan / 350°F.
2. Beat the eggs in a large bowl, then add the oil, brown sugar, grated carrot, raisins and chopped nuts.
3. Sift in the dry ingredients and bring the mixture together using a wooden or large metal spoon.
4. Pour the mixture into the lined muffin tins and bake in the oven for 20-25mins or until a skewer inserted into the middle comes out clean.
5. Cool completely on a wire rack.
6. To make the icing, beat the cream cheese and butter together in a bowl until combined. Add the vanilla extract, icing sugar and mix to combine. The icing should be smooth and quite thick. If it is still quite runny just add more icing sugar until it is at the required thickness. Using a palette knife, spread the icing evenly over the cooled cake, dipping the knife into a bowl of hot water if the icing is hard to spread out.
desserts, snack, buns, carrot, cupcakes, muffins, carrot cake, spice July 25, 2011 19:04
Author Rachel Allen (rachelallen.co.uk/recipes....)