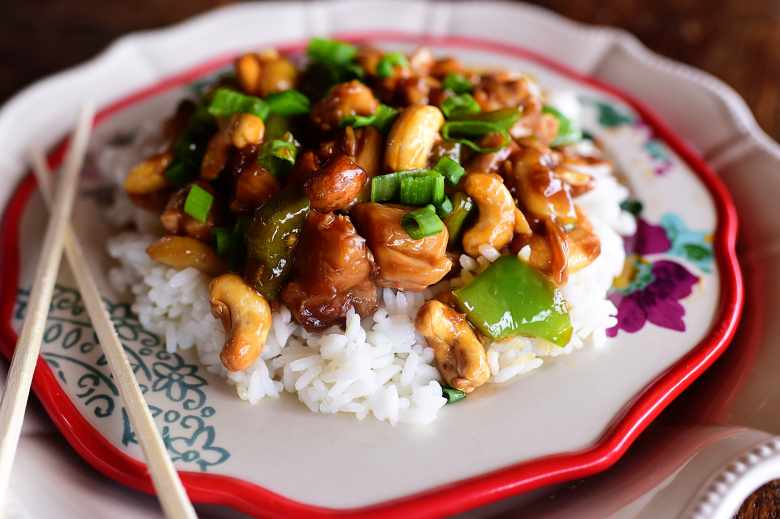 1 1/2 cups white basmati rice, cooked to package directions in chicken stock rather than water
1 cup raw cashews
2 lbs boneless, skinless chicken breast diced into bite-sized pieces
salt and pepper
3 tbsp high temperature cooking oil (I use Avocado Oil)
2 sweet peppers diced
2 large or 3 small leeks, halved lengthwise, trimmed of rough green tops and root then cut into 3/4 inch half-moons and washed and dried
1 1/2 inches ginger, grated or minced
4 cloves garlic, minced
1/2 or 1 tsp red chili flakes (depends how much heat you want)
About 3 tbsp rice wine vinegar, a fat splash
1/4 cup Hoisin sauce
1/4 cup water
1 tbsp low sodium soy sauce or Tamari
1 tsp sesame oil
Toasted sesame seed and cilantro leaves, to garnish
Directions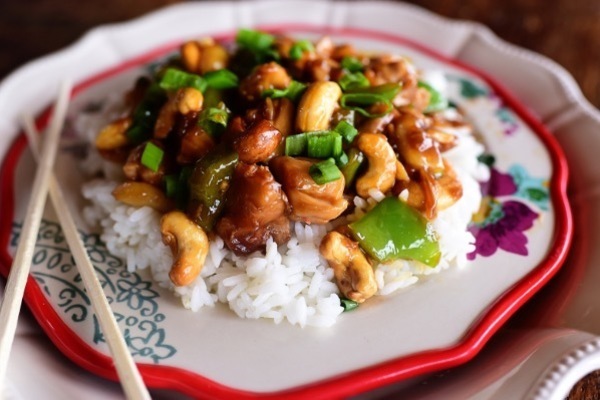 1. Preheat oven to 375. Scatter nuts on a small baking sheet and toast 6 mins. Remove and cool.
2. Season chicken with salt and pepper.
3. Heat large pan over high heat. Add oil and chicken and brown. Remove chicken from pan.
4. Add remaining tbsp of oil to the pan along with the peppers, leeks, ginger, garlic and chili flakes and toss to combine. Add vinegar, Hoisin, water, soy sauce and sesame oil, and stir to combine. Add in reserved chicken and cashews. Give everything a quick toss to coat and remove pan from heat.
5. Spoon rice into shallow bowls and top with cashew chicken. Serve topped with sesame seeds and cilantro.
main courses November 06, 2016 17:20
Author Rachel Ray
Share the recipe with your friends
No one has liked this recipe.
0 comments