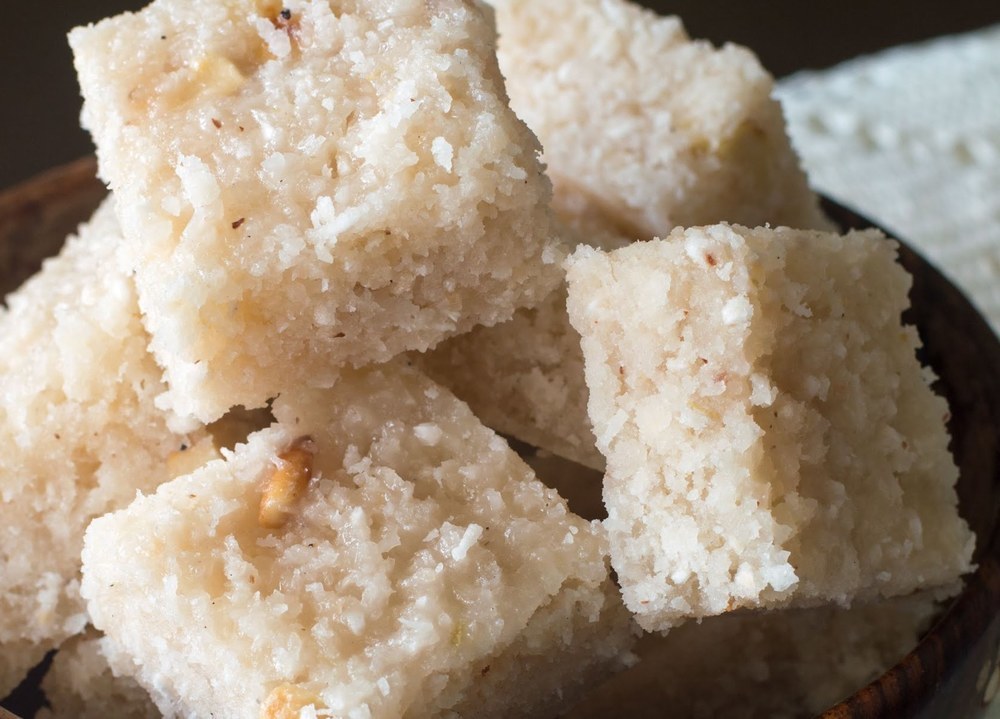 Ingredients
1 cup Dried Coconut
¾ cup whole milk
¾ cup Condensed milk
3-4 cardamoms powdered
½ tsp rose water
1 tbsp sugar optional
2-3 tsp ghee
½ tsp Saffron Powder
8-10 chopped cashews optional
Prep. Time → 45 min
Cook Time → 30 min
1. Warm the milk first and then mix it with the dried coconut. Cover and keep aside for 1 hour.
Heat the ghee in a pan and add to it the milk soaked coconut.
Sauté on a low flame for 2 to 3 minutes.
Now add the condensed milk and stir.
Cook on a low flame stirring often.
Add the sugar if you want and then add the cardamom powder.
Continue to cook and stir. The coconut barfi mixture will thicken slowly.
Cook for about about 22 to 25 mins on a low flame.
Add the rosewater and stir.
Pour the coconut barfi mixture in a greased tray or thali and let it cool completely.
Sprinkle saffron powder or press some cashews on the top.
Slice the coconut barfi into pieces.
Serve.
desserts, coconut, recipe, snack, sweet, harfi January 30, 2018 09:51
Author https://hungryforever.com/recipe/...
Share the recipe with your friends
No one has liked this recipe.
0 comments