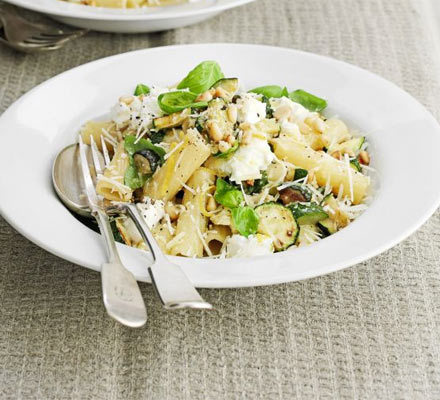 2 tbsp olive oil
1 shallot, finely chopped
4 courgettes, halved and thinly sliced
3 garlic cloves, finely chopped
300g pasta shapes
small bunch basil, most chopped
zest 1 lemon
50g parmesan (or vegetarian alternative), grated, plus extra to serve (optional)
50g pine nuts, toasted
250g tub ricotta
Prep. Time → 15 min
Cook Time → 15 min
1. Heat the oil in a large frying pan. Cook the shallot and courgettes for 8 mins until softened. When they are just beginning to colour, add the garlic and cook for 2 mins more.
2. Cook the pasta following pack instructions. Drain, reserving a little of the water. Tip the pasta into the courgette pan with the basil, lemon zest, Parmesan and pine nuts. Season, dot over the ricotta and mix gently so that you don't break it up too much. Serve sprinkled with extra Parmesan, if you like.
main courses, courgettes, ricotta, pate May 19, 2014 19:09
Author bbcgoodfood.com/recipes/21...
Share the recipe with your friends
No one has liked this recipe.
1 comment