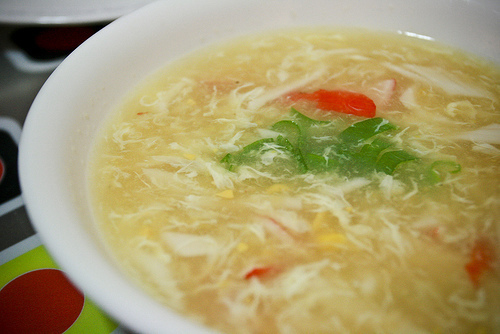 Ingredients
for 4 persons
3 1/2 cups homemade chicken stock
1 can (14.75 oz) cream-style corn
1 tablespoon Chinese cooking wine
2 teaspoons dark soy sauce
1/4 cup cornstarch, dissolved in
1/4 cup water
2 eggs
1 cup chopped kani (crab sticks), plus extra for garnish
salt and pepper to taste
chopped green onions for garnish
Prep. Time → 10 minutes min
Cook Time → 10 minutes min
1. 1 In a stock pot, bring chicken stock to a boil. Add the cream-style corn, cooking wine and soy sauce. Mix well and let simmer for 8 minutes.
2. 2 Add dissolved cornstarch and continue to simmer for 2 to 3 minutes, until the soup is thick.
3. 3 Add the eggs one at a time and mix well. Add the kani and season with salt and pepper. Continue to cook for a minute until the eggs have set.
4. 4 Garnish with chopped kani and green onions.
appetizers June 08, 2012 05:40