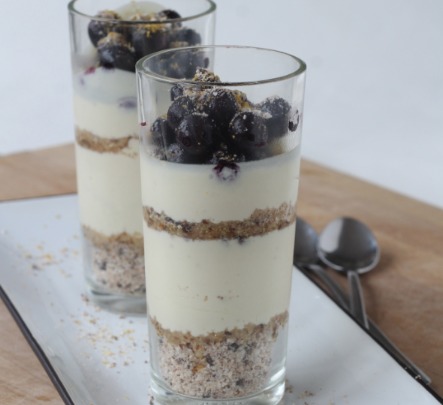 ½ teaspoon lemon zest
250g low fat cottage cheese
2/3 cup low fat Greek yoghurt
2 tablespoons lemon juice
3 tablespoons Natvia
¼ cup (40g) dark chocolate
¼ cup (20g) almond meal
2/3 cup puffed rice
½ cup blueberries (fresh or frozen)
1. Zest lemon and spread out on a board to dry, or place in a 200°C oven for 5 minutes.. Best to do this a few hours before serving.
Blend cheese, yoghurt and lemon juice until smooth and set aside
.
Place Natvia in a small saucepan with ½ teaspoon water and heat, stirring gently, until dissolved. Scrape down any crystals that form on the sides.
Slowly add dissolved Natvia to cheese mixture and whisk until smooth, then chill until ready to use.
Blitz chocolate, almond meal and ¼ tsp of lemon zest to a rough crumb. Add puffed rice and blitz again. Don't over-blitz, you still want some texture.
Place 2 tbs of crumb into the bottom of each of four glasses and top with 3 tbs of cheese mixture.
Reserve 2 tsp of crumb, and divide the remaining between the glasses, finishing with the remaining cream cheese.
Top with blueberries, 2 tsp of crumb and ¼ tsp lemon zest.
desserts, natvia April 10, 2015 14:13
Author Weigh It Up
Share the recipe with your friends
No one has liked this recipe.
0 comments