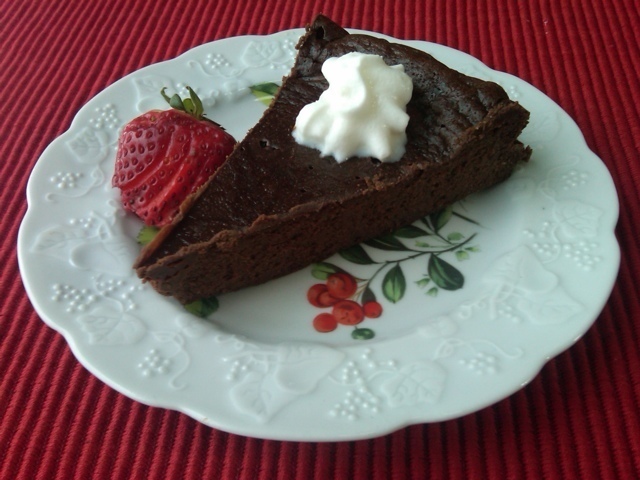 Ingredients
2 cups semi sweet chocolate chips
1 cup white sugar
1 tsp espresso powder
3/4 cup boiling water
1/2 cup (two sticks) salted butter, softened on the counter
6 extra large eggs
1 TBS vanilla
NOTES

(in discussing this recipe with a few friends I wanted to make a note about the food processor. If yours is small, just process the chocolate chips and then transfer everything else to your mixer to make the batter. If you have a very large food processor, you can just make it all in that)
1. Preheat the oven to 350 degrees.
2. Prepare a 9 inch springform pan with baking spray and line with a wax paper circle.
3. In the food processor, combine the first 3 ingredients and process until fine. Slowly pour in the boiling water while processing until the chocolate mixture is melted. Add the sticks of butter, one at a time. Scrap down the sides. Add in the eggs and vanilla and process until smooth.
4. Pour the mixture into the prepared pan. Bake for 40 minutes. Loosen the sides of the pan, let cool, and then refrigerate for at least 3 hours. The cake will look odd, until it has time to set. Don't worry, I promise it will be perfect.
5. Garnish with whip cream...raspberries...strawberries...whatever your heart desires!
desserts, cake February 25, 2016 01:02
Author a-life-from-scratch.com/
Share the recipe with your friends
No one has liked this recipe.
0 comments