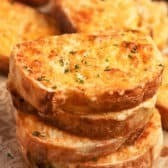 Ingredients
for 10 slices
½ cup + 2 tablespoons salted butter softened, divided
2 cloves garlic minced
½ cup cheddar cheese shredded
¼ cup Monterey jack cheese shredded
¼ cup parmesan cheese shredded
salt & pepper to taste
10 slices thick white bread slightly dry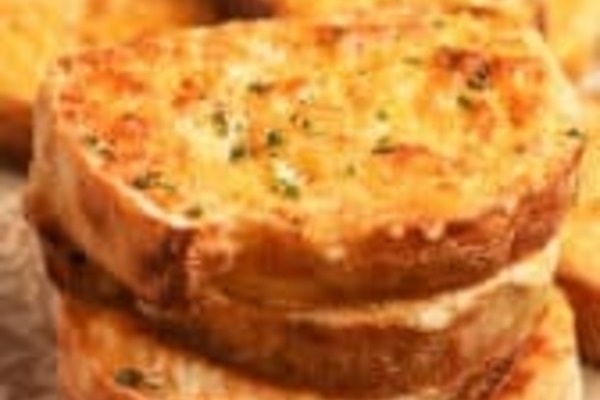 1. Preheat the oven to 375°F.
2. Butter one side of the pieces of bread with the 2 tablespoons butter. Place on a baking sheet butter side down.
3. Combine remaining butter, garlic and cheeses in a food processor. Pulse until mixed.
4. Spread over the unbuttered side of the bread. Place in the oven on the middle rack and bake 8-10 minutes or until cheese is melted.
5. Optional: Turn onto broil for 30-60 seconds to brown the cheese
7. If you don't have a food processor, you can use a hand mixer.
8. You can use any combination of cheese in this recipe. Ensure one of the cheeses has a bold flavor (like parmesan for best results).
9. This can be spread over french bread to make a loaf of cheesy bread.
appetizers May 01, 2022 14:58
Share the recipe with your friends
No one has liked this recipe.
0 comments