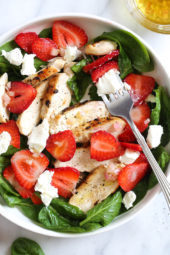 Ingredients
for 4 servings
GRILLED CHICKEN SALAD WITH STRAWBERRIES AND SPINACH RECIPE
5 Freestyle Points 331 calories
TOTAL TIME: 20 minutes
Grilled Chicken Salad with Strawberries and Spinach is made with creamy goat cheese and a white balsamic dressing, but this would also be great with Feta cheese and if you want to add more protein, or skip the cheese add walnuts or slivered almonds.
INGREDIENTS
For the dressing:
3 tbsp golden balsamic vinegar
3 tbsp extra virgin olive oil
1 tbsp chopped shallots
1 teaspoon honey
1 teaspoon water
1/8 teaspoon kosher salt
fresh black pepper, to taste
For the chicken

16 oz boneless skinless chicken breast
1 clove garlic, crushed
1 teaspoon seasoned salt, to taste (I used Montreal Steak Grill Mates)
For the Salad

6 cups baby spinach
3 cups sliced strawberries
2 ounces soft goat cheese
2. In a small bowl whisk together the dressing ingredients.
For the chicken: Season chicken with seasoned salt, then mix in crushed garlic.
Light the grill or indoor grill pan on medium heat, when hot spray the grates with oil and grill the chicken about 10 to 11 minutes on each side until charred on the outside and cooked through in the center. Set aside on a cutting board and slice on an angle.
In a large bowl toss the spinach with the dressing. Divide between 4 plates and top with strawberries, goat cheese and
grilled chicken.
3. NUTRITION INFORMATION Yield: 4 Servings, Serving Size: 1 salad with 3 oz chicken
Amount Per Serving: Freestyle Points: 5 Points +: 8 Calories: 331 calories Total Fat: 17g Saturated Fat: g Cholesterol: 89.5mg Sodium: 345mg Carbohydrates: 4g Fiber: 4g Sugar: 10.5g Protein: 31g
main courses, chicken, lunch, salad, spinach, strawberries March 19, 2018 21:01
Author https://skinnytaste.com/grilled-c...
Share the recipe with your friends
No one has liked this recipe.
0 comments