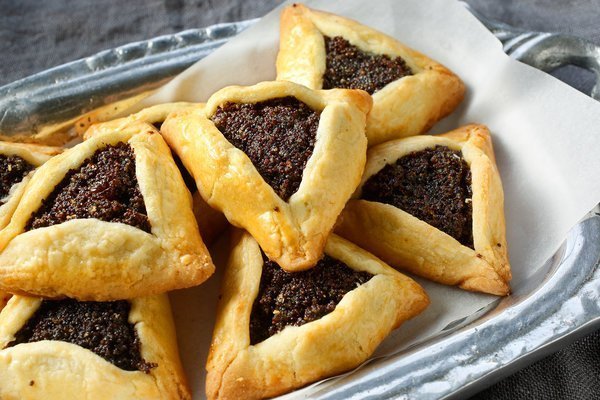 Ingredients
for 2 dozen cookies
1 cup confectioners' sugar
2 large egg yolks
8 ounces unsalted butter at room temperature, in small pieces
Grated zest of 1 lemon
2 cups all-purpose unbleached flour
Dash of salt
1 large egg, beaten, for the glaze
Prep. Time → 120 min
Cook Time → 15 min
1. Put the confectioners' sugar and the egg yolks in a food processor and blend. Add butter and lemon zest and process to blend. Gradually add the flour and the salt, pulsing until it forms a ball. Divide the dough in half, flatten each into a disk, wrap tightly in plastic wrap. Chill until firm, at least 1 hour or up to overnight.
2. Preheat the oven to 350 degrees. Line 2 pastry sheets with parchment paper.
3. Unwrap one of the chilled dough disks and place on a piece of parchment paper that has been dusted lightly with flour. Lightly dust the top of the dough with flour. Cover with a second piece of parchment paper. Let stand at room temperature until malleable, about 5 minutes. Use a rolling pin to press and roll out the dough into a 1/4-inch- thick round between the sheets of parchment, flipping the dough occasionally. Use a plain biscuit or cookie cutter or glass to cut 3-inch circles, placing the circles on the prepared baking sheet spaced 1 inch apart. Place the baking sheet in the refrigerator to chill until firm while you repeat the rolling/cutting process with the second round of dough.
4. Remove the first pan of dough rounds from the refrigerator. Place a heaping teaspoon of the filling in the center of each, and press up the sides to form triangles, pinching the ends closed. If the dough is too firm, let stand a minute or two to soften; returning the baking sheet to the refrigerator if the dough becomes too soft. Repeat with the remaining dough rounds.
5. Brush the tops with beaten egg. Bake until golden and dough is delicately firm all the way through, about 13-18 minutes, rotating the racks front to back and top to bottom after about 10 minutes.
6. Place trays on wire racks for 10 minutes before transferring cookies on parchment to racks to cool completely.
desserts, jewish, spring, purim March 05, 2018 03:09
Author https://cooking.nytimes.com/recipes/1...
Share the recipe with your friends
No one has liked this recipe.
0 comments