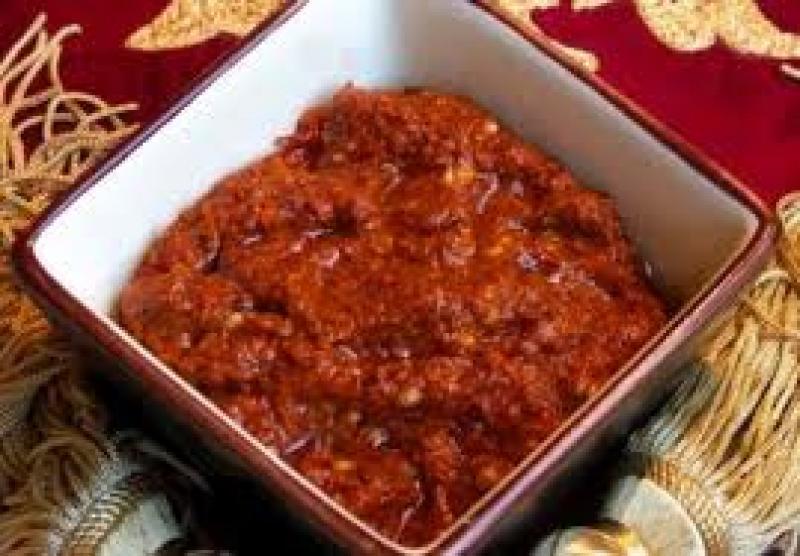 Ingredients
for a large batch!
250g long fresh red chillies
3 heaped tsp caraway seeds
3 heaped tsp cumin seeds
1 level tsp black cumin seeds (optional)
4 garlic cloves
1 large red bell pepper, roasted, peeled and seeded
1 dsp tomato puree
1 dsp red wine vinegar
2 level tsp sweet smoked Spanish paprika
6 tbsp extra virgin olive oil
sea salt and black pepper
1. Roast the seeds in a dry frying pan and then grind them using pestle and mortar to produce a coarse ground fragrant mixture. Place the roughly chopped chillies in a food processor and pulse to start to break them down. Add the ground seeds and the garlic together with a good pinch of coarse ground salt to help the break down. Pulse a few more times before adding the rest of the ingredients and then blitzing to make a nice smooth paste.
2. This can be stored in a fridge for a few weeks (especially if a layer of oil is added to stop air getting to it.
3. To make a nice refreshing yoghurt dip add a good desert spoon of the Harissa paste to a few tablespoons of Greek yoghurt and mix well with a squeeze of lemon...
starters July 07, 2013 22:45
Author harissa from growfruitandveg.co.uk/grap...