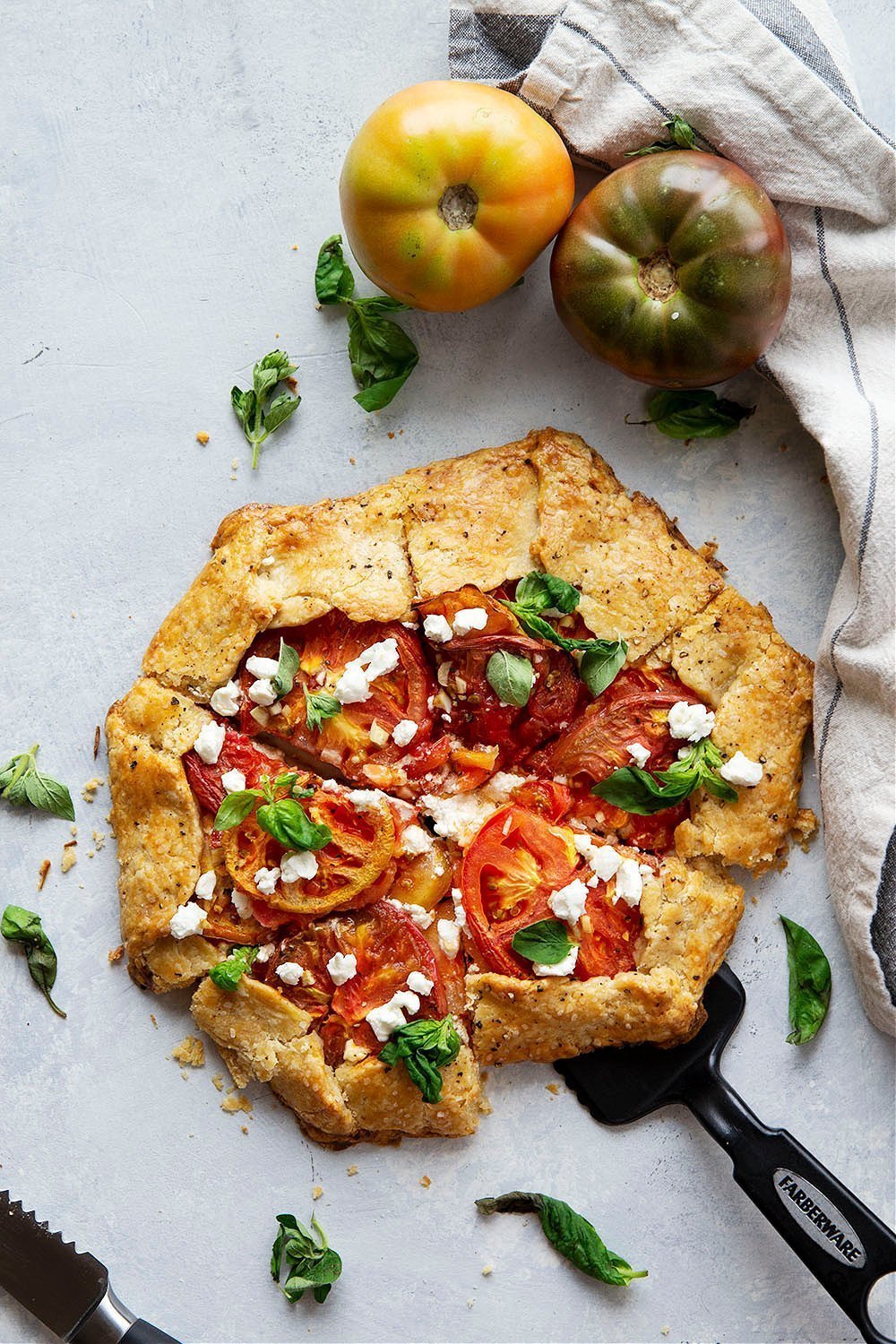 Ingredients
2-3 med heirloom tomatoes, sliced 1/4 inch thck
1 tsp kosher salt
2 cloves garlic, minced
4 oz goat cheese, crumbled
1 shallot, thinly sliced
1 tbsp lemon juice
squirt of olive oil
some basil pesto
1 prepared pie dough round (refrigerated kind like Pillsbury) or make your own
1 egg beaten with a dash of water
salt and pepper
2 tbsp roughly chopped fresh basil
1. In a med bowl gently toss tomatoes with with garlic and salt. Let stand 30 mins for tomatoes to release their juices. Drain tomatoes and pat dry with paper towels.
2. In small bowl combine shallots, lemon juice and olive oil with some salt and pepper.
3. Preheat oven to 400. Line a large baking sheet with parchment paper. Set aside.
4. Place pie dough on the baking sheet and spread the basil pesto within 2 inches of the edge of the dough. Crumble half of the goat cheese on. Layer tomatoes and shallot on top. Crumble remaining goat cheese on top. Fold the rim of dough into rustic pleats, covering some of the filling.
5. Brush galette crust with the egg wash. Refrigerate galette for 15 mins.
6. Bake galette for 50ish mins until pastry is a deep golden brown and tomatoes are bubbly. Remove from oven and sprinkle with the fresh basil. Allow to cool for 10 mins.
main courses September 15, 2022 02:28
Share the recipe with your friends
No one has liked this recipe.
0 comments