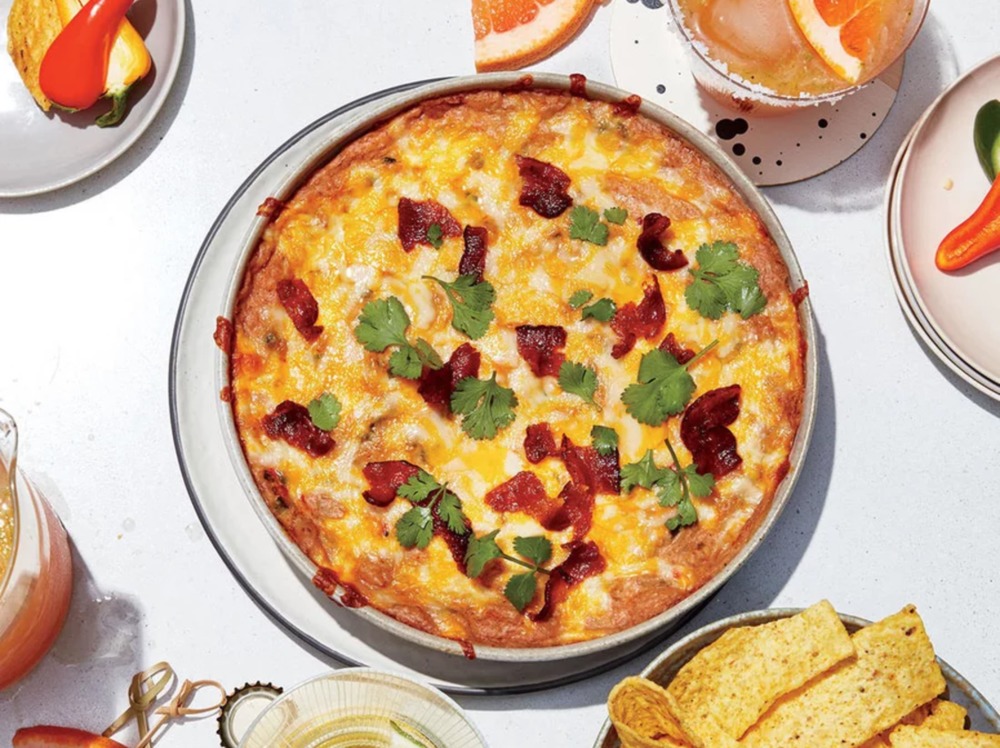 5 jalapeños
1 1/2 (15-oz.) cans unsalted pinto beans, rinsed and drained
4 ounces 1/3-less-fat cream cheese
1/2 cup canola mayonnaise
1 teaspoon ground cumin
1/4 teaspoon kosher salt
1 garlic clove, grated
2/3 cup chopped green onions (about 3)
Cooking spray
2 ounces Colby Jack cheese, shredded (about 1/2 cup)
4 bacon slices, cooked and crumbled
1 tablespoon chopped fresh cilantro (optional)
Prep. Time → 20 min
Cook Time → 30 min
1. Preheat broiler with oven rack in top position. Arrange jalapeños on a foil-lined baking sheet. Broil, turning occasionally, until charred on all sides, about 8 minutes. Wrap jalapeños in foil from pan; let stand 10 minutes. Rub off skins; discard skins. Discard stems, membranes, and seeds. Finely chop jalapeños.
2. Reduce oven temperature to 350°F. Process beans, cream cheese, mayonnaise, cumin, salt, and garlic in a food processor until smooth, stopping to scrape down sides of bowl as necessary. Add jalapeños and onions; pulse just until combined. Spread mixture evenly in a 9-inch pie pan coated with cooking spray; top evenly with Colby Jack cheese. Bake at 350°F until cheese melts and dip is bubbly, about 20 minutes. Remove dip from oven; sprinkle with bacon and cilantro, if desired.
appetizers, dip, potluck September 26, 2017 07:00
Author cookinglight.com/recipes/j...
Share the recipe with your friends
No one has liked this recipe.
0 comments