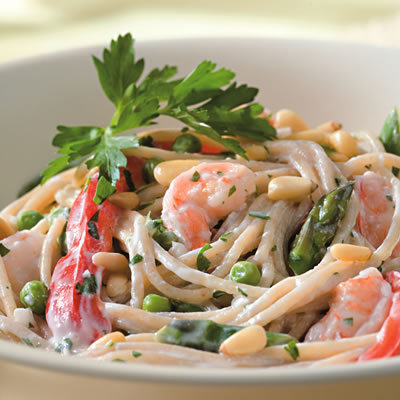 Ingredients
for 2-4 people
Half a box of Whole Wheat Pasta. (Barilla brand my favorite)
1/4 an Onion (diced).
2 cloves of Garlic (minced).
Frozen, uncooked and deveined Shrimp (enough for the people eating it.)
Italian Seasoning.
1/2 of a Lemon.
Frozen Vegetables (Peas, Carrots, Green Beans, and Corn) mix.**
Vegetable Broth (Lower-Sodium & Oil-Free kind).
Sea Salt.
Parsley (Optional).
**Use any mix of Vegetables you like but please do not get a mix that has Okra in it.
My yummy Whole Wheat Pasta recipe
www.recipefy.com/en/yummy-whole-wheat-pasta-very-time/recipes/3145
1. Get a tall pot and start cooking the Pasta. Read this article for how I make Pasta every time with Vegetables:
http://www.recipefy.com/en/yummy-whole-wheat-pasta-very-time/recipes/3145
2. Once you have dropped the Pasta into the boiling water, take a big Saucepot, put in enough Vegetable Broth to cover the bottom of the pot and start cooking 1/4 of an Onion (diced) on med-high heat.
3. Shortly after add in the 2 cloves of minced Garlic.
4. Add the Frozen Shrimp, making sure to turn it every now and then so each gets even cooking. You'll know it's cooked when it turns from grey to pink.
5. As it starts turning pink, sprinkle over Italian Seasoning, the juice of half a Lemon and a bit of Salt.
6. Once your Pasta and Shrimp is done, turn off the heat for both pots. Take a bit of the starchy Pasta water and place it in your saucepot. Drain the Pasta and Vegetables, then move it in with the Shrimp and toss it all.
7. Garnish with a piece of Parsley when served on a bowl. (Optional)
main courses, pasta, shrimp, healthy, onion, garlic, lemon, whole wheat, carrots, corn, vegetables, green beans, sea salt, peas, parsley, vegetable broth August 12, 2011 18:51