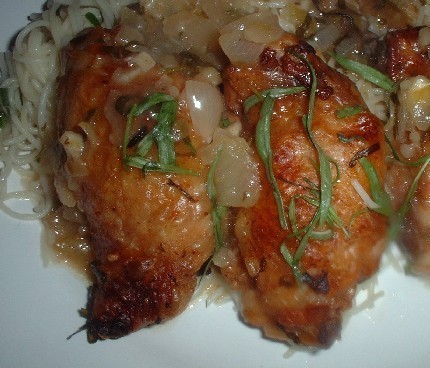 Ingredients
for 6-8 people
2 tbsp. margarine
8 med. skinless, boneless chicken breast halves (1 1/2 lb.)
2 c. fresh mushrooms, halved
2 cloves garlic, minced
3 tbsp. dry sherry
1/2 tsp. tarragon, crushed
1/2 tsp. lemon pepper seasoning
1 (14 1/2 oz.) can chicken broth
1/4 c. sour cream
Hot cooked spinach or egg noodles
Quartered fresh lemon slices (optional)
1/3 c. flour
Prep. Time → 50 min
Cook Time → 50 min
1. In 12-inch skillet, melt margarine over medium high heat. Add chicken, mushrooms, garlic, sherry, tarragon, and lemon pepper seasoning. Cook, uncovered, for 10-12 minutes or until chicken is no longer pink, turning once. Remove chicken and mushrooms with a slotted spoon.
In a screw top jar, combine chicken broth and flour; shake until blended. Add mixture to the skillet. Cook and stir over medium high heat until thickened and bubbly.
Remove about 1/2 cup of mixture from skillet and stir into sour cream. Return to skillet along with chicken and mushrooms. Heat through; do not boil. Serve over hot cooked
noodles. Garnish with lemon slices, if desired. Serves 8.
main courses, chicken April 12, 2011 17:04
Author dev.k from india