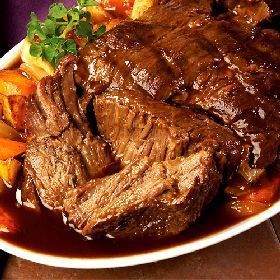 Ingredients
4 lb or 2 kg cross rib or boneless blade pot roast
4 minced cloves of garlic
2 tbsp Montreal steak spice
3 tbsp olive oil
2 onions, sliced
2 1/2 cups beef stock
1/3 cup all-purpose flour
1/4 cup minced fresh parsley
Directions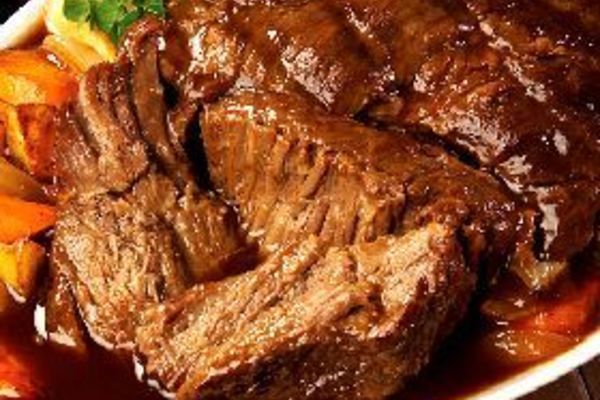 1. Pat roast dry. In large shallow dish, combine garlic and steak spice; rub all over roast. In large dutch oven, heat 2 tbsp oil over med-high heat; brown roast all over, turning with wooden spoons; about 10 mins. Transfer to plate; set aside. Reduce heat to med; heat remaining oil. Fry onions, stirring occasionally until golden, about 4 mins. Put onions in slow cooker and top with roast. Put beef stock in dutch oven bring to a boil; scrape up brown bits and pour over roast. Cover and cook on low for about 7 hrs. Remove roast and cover with foil to keep warm. Whisk flour and 1/2 cup water and whisk into slow cooker. Cover and cook on high until thickened, about 15 mins. Sprinkle with parsley.
main courses October 05, 2016 02:49
Share the recipe with your friends
No one has liked this recipe.
0 comments