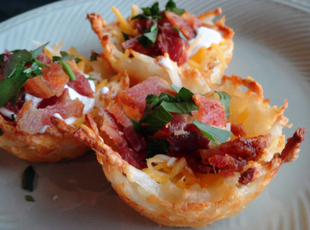 3 c grated russet potatoes or thawed frozen hash browns
1 1/2 c colby jack cheese
1 16 oz. sour cream
3/4 c shredded parmesan cheese
5 slc cooked and crumbled bacon
1 1/2 tsp salt
1 tsp onion powder
1/2 tsp garlic powder
2 beaten egg whites
1/4 c chopped fresh chives or parsley
freshly ground pepper to taste
1. Preheat the oven to 450 degrees. Spray a 12 cup muffin tin with butter spray and set aside. Grate the clean, unpeeled potatoes with a box grater, and blot with a paper towel to remove the excess moisture but, don't rinse. In a mixing bowl, mix together the grated potatoes, egg whites, parmesan cheese and seasonings. Scoop 1/4 cup of the potato mixture into each muffin cup and press firmly onto the bottom and up the sides of each cup. Spray each nest with butter flavored cooking spray. Place into the oven and bake for 20-25 minutes or until golden brown.
Remove from the oven and run an off set spatula or knife carefully around each to loosen the edges. Cool in the pan for 5 minutes before removing. To assemble, sprinkle each nest with shredded cheese, and pipe sour cream into the middle. Sprinkle the crumbled bacon on top then garnish with chopped chives or parsley. Serve warm.
appetizers December 30, 2011 18:45
Author justapinch.com/recipe/meli...=
Share the recipe with your friends
No one has liked this recipe.
2 comments