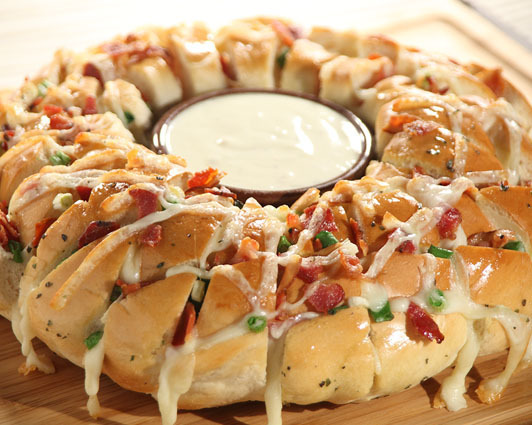 Video
Ingredients
for 8 Servings
1 Loaf Rhodes Bread Dough, thawed but still cold
slices of your favorite cheese
cooked bacon
green onion, diced
dipping sauce
Prep. Time → 30 min
Cook Time → 35 min
1. Roll loaf into a 20-22-inch rope.
2. Form into a circle and place in the bottom of a sprayed bundt pan.
3. Cover with plastic wrap and let rise until double in size.
4. Remove wrap and bake at 350°F 20-25 minutes or until lightly browned.
5. Cool and then make cuts lengthwise and widthwise, about 1-inch apart, without cutting through the bottom crust.
6. Place on a sprayed baking sheet.
7. Insert cheese slices & bacon pieces between the cuts.
8. Return to oven and bake an additional 5-10 minutes or until cheese is melted.
9. Serve with your favorite dip in the middle.
desserts, appetizer, bacon, baking, bread, cheese, delicious, desserts, dough, easy, family, fast, kids, loaf, onion, oven, party, ranch, sauce, simple, snacks, rhodes July 09, 2014 21:39
Author rhodesbread.com/recipes/vi...
Share the recipe with your friends
No one has liked this recipe.
0 comments