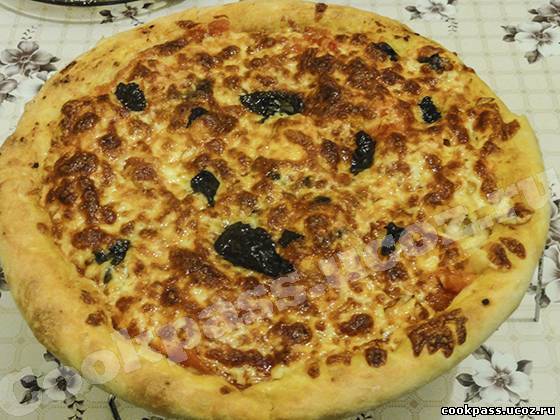 Ingredients
for 2 30cm pizzas
Dough
21 g dry yeast
330 ml warm water
415 g flour
2 Tbsp olive oil
3 g salt
Filling
125 g neapolitan tomato sauce (you can find it here in my cookbook)
114 g mozarella cheese, grated
Olive oil
3-4 fresh basil leaves
Prep. Time → 20 min
Cook Time → 60 min
1. Dissolve yeast in water, in a big bowl. Leave it for 5 minutes.
2. Add all remaining dough ingredients, mix by hands or mixer on slow speed until ingredients will be mixed.
3. Knead a dough by hands or kneading machine on slow speed for 10 minutes or until dough will become elastic and soft.
4. Put olive oil and dough in another bowl to mix them, then close with a plastic cover and put in a warm place for 1 hour or so to proof until dough doubles in size.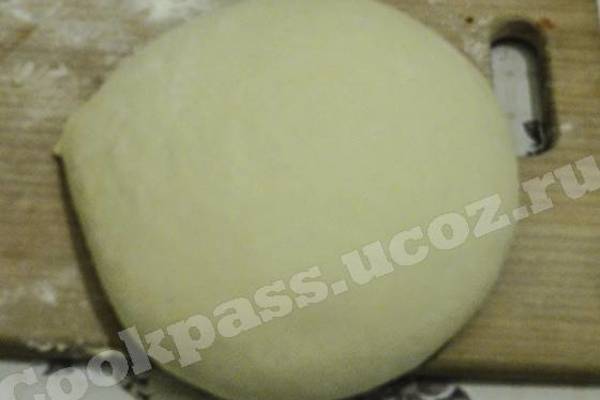 5. If you use wood-burning stove for pizza baking, stoke it up. If you use ordinary baking oven, pre-heat it to 482°F. If you use a baking stone, it must heat up for at least 45 minutes. Divide the dough by halves, form each half as a ball and leave all of them for 15 minutes.
6. After 15 minutes have passed, form the balls as a disks, stretching them from middle on place sprinkled by flour. Don't roll them - rolling makes dough firmer and less airy.
7. Now unite the ingredients in a pizza: spread approximately 125 g of tomato sauce or crushed tomatoes around dough disks, leaving 2,5 cm of empty space from the edges, handle the edges, sprinkle the disk with mozarella, drizzle some olive oil, add basil and bake.
============================================================
Tips:
- If baking stone is used and you have a peel (thin metallic disk with a handle) then sprinkle the peel with flour, place pizza on it and move it to stone by a nimble leap - flour won't let dough to stick. If you have no peel, you may use a flat oven-tray which is also sprinkled with flour to move pizza to the stone.
- If you use a metallic oven-tray then pizza must bake on a bottom level of the oven.
- In any case, pizza will be ready when the crust will brown and edges will be baked: this process takes 3 minutes in a wood-burning stove and 15 minutes in usual oven.
- If you will notice that mozarella will brown before other ingredients will be baked, then next time add it after 5 minutes since the start of pizza baking.
main courses, delicious, italian, neapolitan, pizza, sauce, tasty, tomato, magherita, classic June 23, 2014 11:16
Author Marina Peskova (cookpass.ucoz.com/)