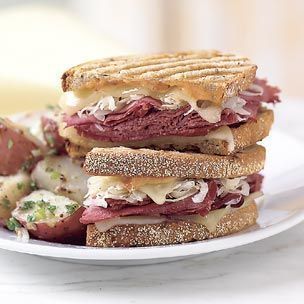 2 slices rye bread, each 1⁄2 inch thick
Olive oil for brushing
2 heaping Tbs. Thousand Island dressing
2 slices Swiss cheese
6 slices corned beef
1⁄3 cup sauerkraut, drained
1. Preheat an electric panini press according to the manufacturer's instructions.
2. Brush one side of each bread slice with olive oil. Lay the slices, oiled side down, on a clean work surface. Spread the tops of the slices with Thousand Island dressing. Arrange 1 of the cheese slices, the corned beef, sauerkraut and the remaining cheese slice on 1 bread slice, then top with the other bread slice, oiled side up.
3. Place the sandwich on the preheated panini press and cook according to the manufacturer's instructions until golden brown and crispy, 3 to 4 minutes.
4. Transfer the sandwich to a cutting board and cut in half. Serve immediately. Serves 1.
main courses December 29, 2011 22:35
Author williams-sonoma.com/recipe...
Share the recipe with your friends
No one has liked this recipe.
2 comments