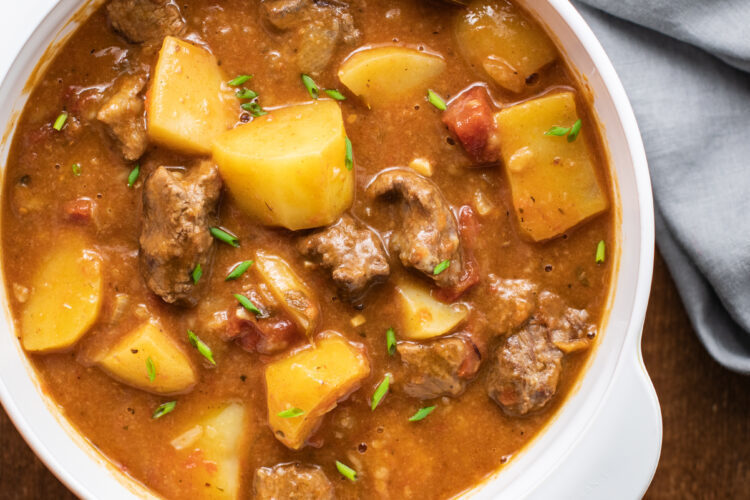 Ingredients
for 6 servings
1 tbsp oil
1 1/2 lb beef tri-tip, trimmed and cubed
2 tbsp butter
1 large onion, diced
1 large carrot, grated
4 cloves garlic, minced
10-12 white mushrooms, thickly sliced
2 tsp salt
1 tsp ground black pepper
1 tsp ground cumin
1 tsp ground coriander
1 tsp smoked paprika
2 tbsp all-purpose flour
1/2 cup dry white wine
3 cups beef broth
1 cup tomato sauce
6-7 large russet potatoes, peeled and cubed
2 tbsp finely chopped fresh parsley
Finely chopped fresh dill, as needed
Directions
1. Preheat oven to 350F. Preheat a large Dutch oven over high heat. Add the oil and beef. Fry the beef for 6 to 7 minutes, until well browned all over, then transfer to a medium bowl.
2. Reduce the heat to medium. Add the butter to the Dutch oven and allow it
to melt. Add the onion, carrot, garlic and mushrooms. Sauté this mixture until the onion is translucent, 6 to 7 minutes. Return the beef to the Dutch oven and season the mixture with the salt, black pepper, cumin, coriander and smoked paprika. Add the flour and toss the ingredients together for 1 minute with a spatula, until they are well coated in the flour.
3. Add the wine and allow it to simmer for 1 minute, then add the broth and
tomato sauce. Stir the mixture until the ingredients are well combined.
4. Stir the potatoes into the stew and sprinkle it with the parsley. Cover the
Dutch oven with a lid and bake the stew for 1 1/2 to 2 hours (the longer the
baking time, the more tender the beef).
main courses, beef, multi-day, winter May 09, 2021 16:54
Author Beyond Borscht
Share the recipe with your friends
No one has liked this recipe.
0 comments