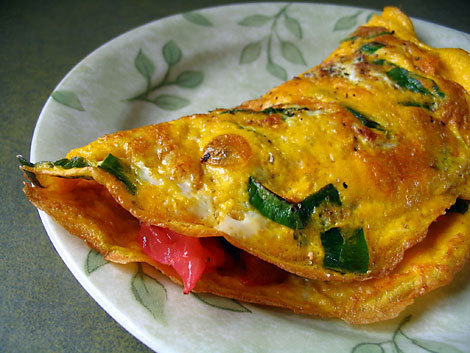 Video
2 Eggs
1/4 Cup Of Cheese
1/4 Cup Of Milk (Optional)
Salt & Pepper (Optional)
2 Slices Of Bacon
1/8 Of Tomato
2 Mushrooms
1/8 Red Pepper
Prep. Time → 10 min
Cook Time → 8 min
1. This is a great way to start off your day and it's super easy to do as well – don't let anyone else tell you different.
2. Now, I'd advise to have all your ingredients prepared so you don't have your pan getting too hot before you add your egg into it.
3. Combine the eggs, milk, salt and pepper into a bowl. Dice and chop your bacon into tiny pieces and put them into a medium to hot pan for about 10 – 12 minutes. Once the bacon is crisp, rest it on a towel to soak up any excess grease.
4. In a clean pan add your olive oil and pad of butter and allow it to heat up for about 5 minutes on a medium/high setting. Once the olive oil starts to separate, then your pan is ready for the egg mixture.
5. Once the egg has been added to the pan, just let it sit for about 45 seconds to 1 minute. Once it's rested for that amount of time it should be ready for you to add the rest of the ingredients. Allow the egg to sit again with the vegetables and cheese for another minute. As it's in the final stages of cooking you're going to want to jiggle the pan a little bit.
6. When it's rested again, just get a soft/rubber spatula and run it around the perimeter to loosen the edges from sticking to the pan. After that has been accomplished, you're going to simply lift up one side of the omelette and fold it over on to itself. Take the pan off the heat and let the omelette sit for another 30 seconds or so.
7. After it's final resting period, you should be able to slide it out of the pan and onto a plate.
main courses, eggs, bacon, breakfast, omelette, food, viral menu, cooking, how-to, bacon strips October 04, 2011 00:12
Author viralmenu.com