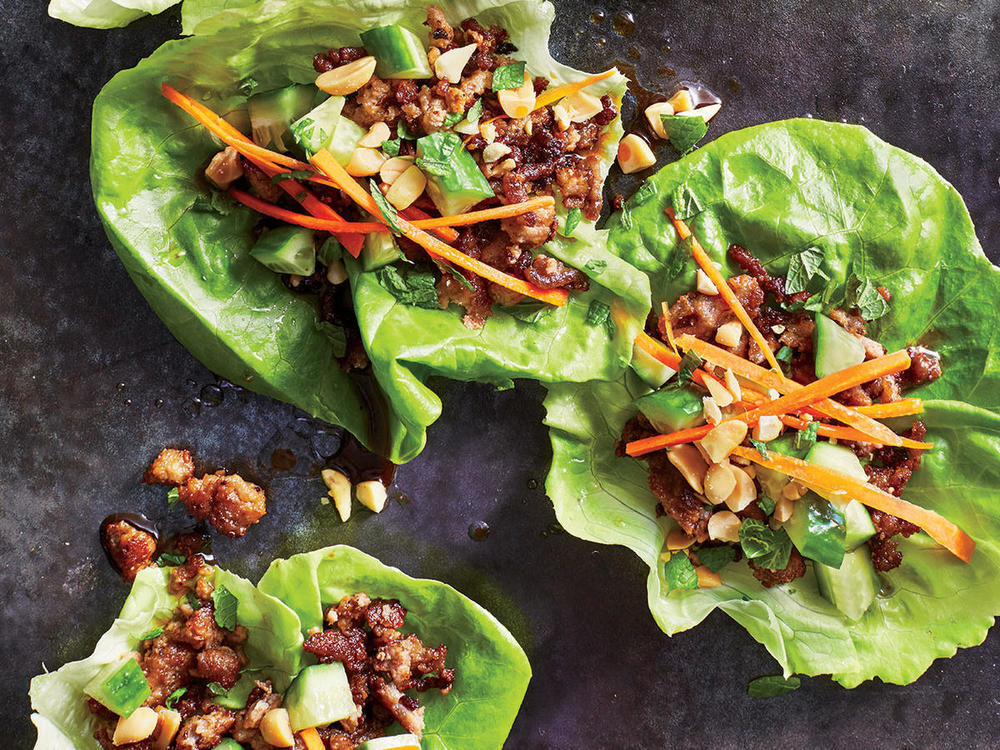 Ingredients
for 4 servings
3 tablespoons canola oil, divided
3 tablespoons reduced-sodium soy sauce
2 tablespoons light brown sugar
2 tablespoons rice vinegar
1 pound ground turkey
12 butter lettuce leaves
1 1/2 cups chopped English cucumber
1 cup matchstick-cut carrots
1/4 cup chopped roasted unsalted peanuts
2 tablespoons chopped fresh mint
Prep. Time → 15 min
Cook Time → 13 min
1. Combine 2 tablespoons oil, soy sauce, sugar, and vinegar in a bowl, stirring with a whisk.
2. Heat remaining 1 tablespoon oil in a large nonstick skillet over medium. Add turkey; cook 7 minutes or until lightly browned, stirring to crumble. Add 1/4 cup soy sauce mixture; cook 4 minutes or until liquid is absorbed.
3. Place about 3 tablespoons turkey mixture in each lettuce leaf; top evenly with cucumber, carrots, and peanuts. Drizzle evenly with remaining soy sauce mixture. Sprinkle with mint.
main courses, turkey, dinner, lunch, tacos September 25, 2017 05:27
Author cookinglight.com/recipes/t...
Share the recipe with your friends
No one has liked this recipe.
0 comments