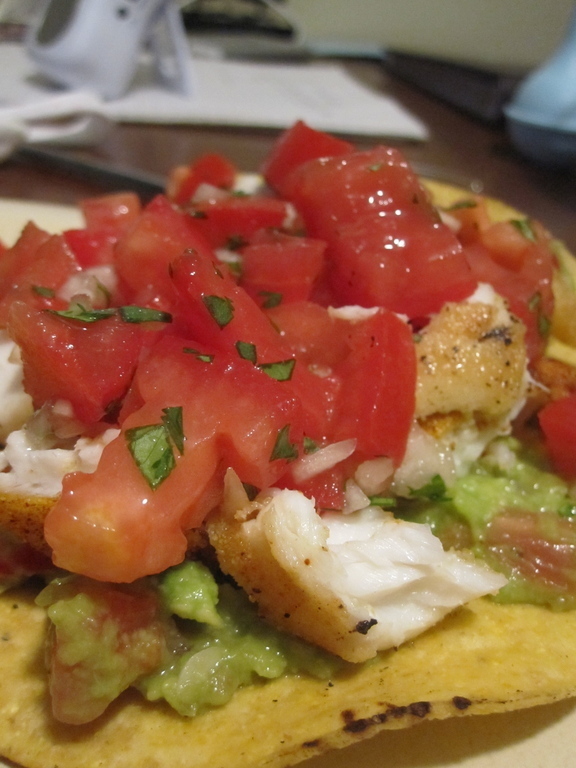 Ingredients
1 ripe peeled avocado
1 cup plus 2 tablespoons finely chopped tomato, divided
3 tablespoons minced fresh onion, divided
3 tablespoons fresh lime juice, divided
1/2 teaspoon salt, divided
1 small garlic clove, minced
1 tablespoon chopped fresh cilantro
1 tablespoon minced seeded jalapeño pepper
3/4 to 1 lb tilapia
1/4 teaspoon smoked paprika
8 (6-inch) corn tostada shells
1. Sprinkle fish with paprika.
2. Heat a skillet over medium heat, add oil to the pan, swirling to coat.
3. Cook fish over medium heat until flakes easily with fork, flipping once.
4. Place avocado in a small bowl; mash with a fork. Stir in 2 tablespoons tomato, 1 tablespoon onion, 1 tablespoon juice, 1/4 teaspoon salt, and garlic.
5. Combine remaining 1 cup tomato, 2 tablespoons onion, 1 tablespoon lime juice, 1/4 teaspoon salt, cilantro, and jalapeño; toss well.
6. Spread guacamole over each tostada shell; top each with fish and salsa made in previous step.
main courses, fish September 27, 2012 05:10
Share the recipe with your friends
No one has liked this recipe.
0 comments