Ingredients
2 shallots, diced
1/4 cup butter, divided
2 cups heavy cream
2 tbsp chopped parsley
1 tbsp chopped chives
1 tsp salt
1/2 tsp ground white pepper
1/8 tsp freshly grated nutmeg
1 1/2 lb yukon gold potatoes
1 1/2 lb yams (sweet potatoes)
2 cups milk
1 1/2 cups (6 oz) shredded Gruyere cheese
1/4 cup grated Parmesan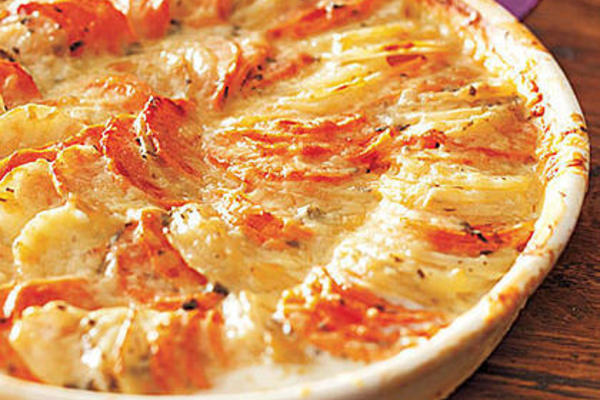 1. Preheat oven to 375. Saute shallots in 3 tbsp melted butter in a saucepan over med heat 2 mins. Stir in cream and next 5 ingredients; cook 2 mins. Remove from heat; cool 15 mins.
2. Meanwhile, peel and thinly slice all potatoes. Combine sliced potatoes and milk in a large, microwave safe bowl. Cover with plastic wrap and microwave at high 5 mins. Uncover and gently stir mixture. Re-cover and microwave 5 more mins. Drain mixture, discarding milk.
3. Layer one-third of white potatoes in a well-greased (with butter) 9x13 baking dish; top with one-third of sweet potatoes. Spoon one-third of cream mixture over potatoes and sprinkle with 1/2 cup Gruyere cheese. Repeat layers twice and top with Parmesan cheese. Cut remaining 1 tbsp butter into small pieces and dot over top. Cover with foil.
4. Bake at 375 for 30 mins. Uncover; bake 20 mins or until browned. Let stand 10 mins.
side dishes May 17, 2018 00:28
Author Got this recipe from Mim