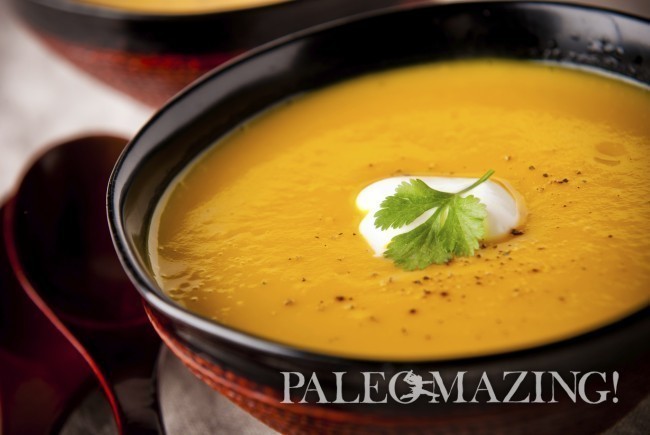 36 ounces butternut squash, cubed 1-2 inch pieces (frozen or fresh, cut up, not peeled)
3 cups water
4 ounces chopped bacon
½ an onion
¼ - ½ teaspoon paprika
Salt and pepper, to taste
Coconut oil for sautéing
1. Add squash to the water in a 4 quart pan.
2. Bring to a boil and then turn to a simmer.
3. Let cook for about 40 minutes or until very soft.
4. Cook the bacon and blot off the extra oil.
5. Sauté your onion in 1 tablespoon of oil until golden.
6. Add bacon and onion to the squash.
7. Add paprika, salt & pepper to taste.
8. Stir. Let simmer for an additional 10 minutes.
9. Use an immersion blender to puree your soup, or better yet pour the soup into a Vitamix and puree all together.
11. NOTE: For a creamer taste, add 2-4 tablespoons of grass-fed butter. If necessary, reheat and enjoy.
starters, bacon, butternut squash, gluten-free, grain-free, paleo, paleomazing, primal, soup September 22, 2017 12:28