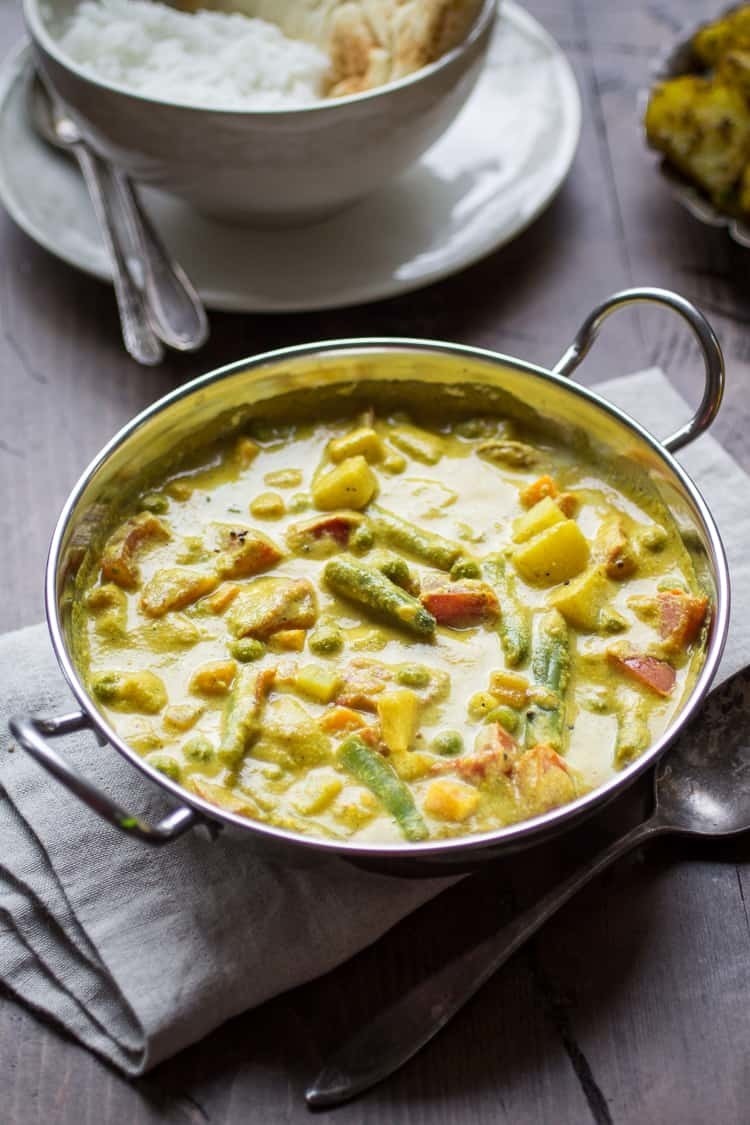 Ingredients
for 4 servings
FOR THE SAUCE
1 medium yellow onion, peeled and halved
3 cloves garlic, peeled
1 (1-inch) piece ginger root, roughly chopped
1 jalapeno pepper, stemmed and seeded
1/4 cup raw cashews
FOR THE KORMA
1 tablespoon vegetable oil
2 teaspoons curry powder
1 teaspoon ground turmeric
1 teaspoon garam masala
1/2 teaspoon cinnamon
1/2 teaspoon coriander
1/2 teaspoon kosher salt
1/2 teaspoon ground black pepper
1/8 teaspoon ground cardamom
2 small tomatoes, diced
1/2 cup canned, unsweetened full-fat coconut milk
3/4 cup plain yogurt
1 1/2 teaspoons brown sugar
1 medium waxy potato, peeled and diced
3 carrots, peeled and diced
1 cup chopped fresh green beans
1 cup yellow bell pepper
Prep. Time → 20 min
Cook Time → 25 min
1. Place the onion, garlic, ginger, jalapeno, and cashews in the bowl of a blender along with 1/2 cup of water. Process until pureed.
2. Heat the vegetable oil in a large saute pan set over medium heat. While the oil heats, measure out all of the spices (the curry powder through cardamom) and place in a small bowl.
3. Pour the pureed sauce mixture into the hot pan, using caution to avoid splatters. Stir in the pre-measured spices and allow to cook for 2 to 3 minutes, until fragrant.
4. Add the tomato, coconut milk, yogurt, brown sugar, potato, carrots, and green beans (not the bell pepper). Stir well, cover the pan, and allow to simmer on medium heat for 10 minutes.
5. Add the bell pepper and cook uncovered a further 10 minutes, until the potatoes are tender.
main courses, indian, multi-day, vegetarian, winter January 03, 2020 05:38
Author https://thewanderlustkitchen.com/crea...
Share the recipe with your friends
No one has liked this recipe.
0 comments