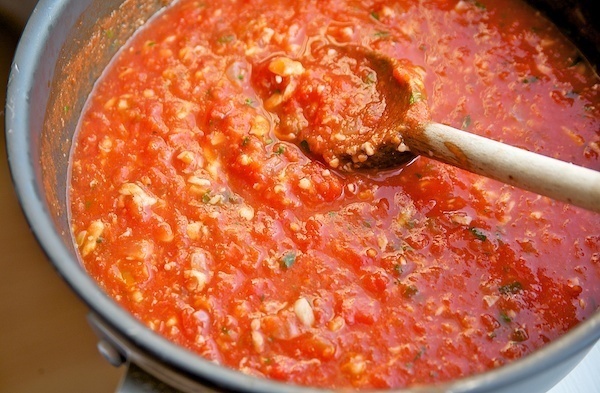 Ingredients
for this recipe depends on the size of the Tomato can.
This sauce is great as a pasta sauce, pizza sauce or put it in soups or on sauteed vegetables.
1 can of Organic Tomatoes, crushed.
2 small pieces of Carrots.
2-3 pinches of Red Chili Flakes (optional).
Tablespoon of diced Onion.
Tablespoon of diced Green Bell Peppers.
Tablespoon of diced Red Bell Peppers.
Clove of Garlic (Minced).
Vegetable Broth.
1 heaping tablespoon of Tomato Paste.
Italian Herb Seasoning. (Available in the Spices section of the supermarket).
Sea Salt.
Black Pepper.
1. In a food processor place in the Chili Flakes, Carrots, and some of the canned Tomatoes (which helps the food processor cut it all up). You want to grind these up so that there is no big vegetable chunks in the sauce. After, set aside the grinned vegetable mix aside for a moment.
2. Take a tablespoon of diced Onions, tablespoon of diced Green Pepper, and a tablespoon of diced Red Pepper. Place it all into a tall pot (I use a pressure cooker pot) with a small amount of Vegetable Broth; enough to cover the bottom of the pot. Cook until the onions become more transparent.
3. Toss in the minced Garlic clove and cook for a minute.
4. Add in the grinned up Chili/Carrot mixture.
5. Then, throw in the canned Tomatoes (with its liquid is best).
6. Add a heaping tablespoon of Tomato Paste.
7. Add Italian Herb Seasoning, Salt and Black Pepper to taste.
side dishes, bell pepper, broth, carrot, easy, garlic, healthy, onion, quick, tomato, vegan, vegetarian, hot pepper May 09, 2012 02:23
Share the recipe with your friends
No one has liked this recipe.
2 comments