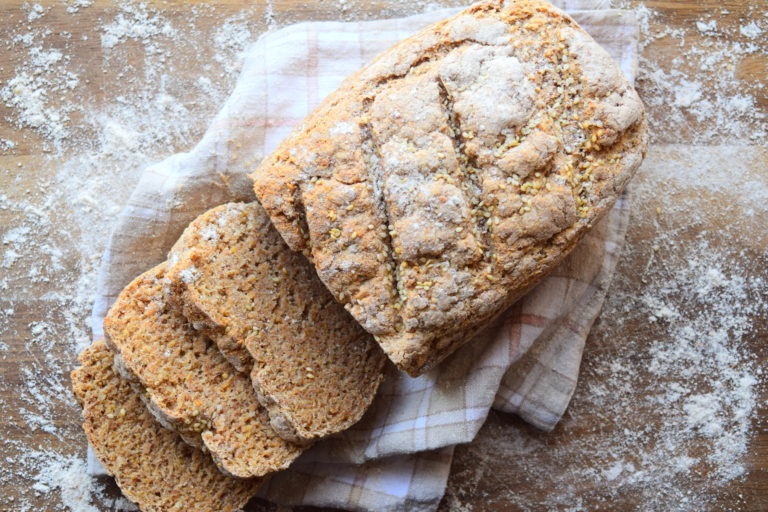 Ingredients
for 16 slices
500g/18oz spelt flour
20g/0.5oz flaxseed
2 tbsp. sesame seeds
2 tsp. dry yeast
240ml/8fl oz water
2 tbsp. maple syrup
1 tsp. coconut oil
Prep. Time → 135 min
Cook Time → 30 min
1. Place the flour, flaxseed, sesame seeds and dry yeast in a large mixing bowl and mix until well combined.
Slowly add in the honey and water, keep mixing as you go with an electric mixer until you reach a dough consistency.
Sprinkle some flour on a cleaned work surface, then knead the dough until you have a firm ball.
Place the dough in a large bowl, cover with a kitchen towel and leave for 1-1 1/2 hours. (Until the dough has doubled in size).
Grease your loaf tin with coconut oil.
Once the dough has risen, remove it from the bowl and place it in your tin.
I sprinkle the top of mine with a few more sesame seeds (but this is optional).
Slice a few cuts on top of the loaf and then cover with a kitchen towel again for another 30-40 minutes, to let it rise again.
Preheat the oven to 200C/390F.
Bake the loaf in the oven for 20-25 minutes, then leave out to cool for 10 minutes before slicing and serving.
starters, bread, breakfast, dairy-free, vegan, vegetarian September 21, 2017 03:28
Author mynutricounter.com/recipe-...
Share the recipe with your friends
No one has liked this recipe.
0 comments