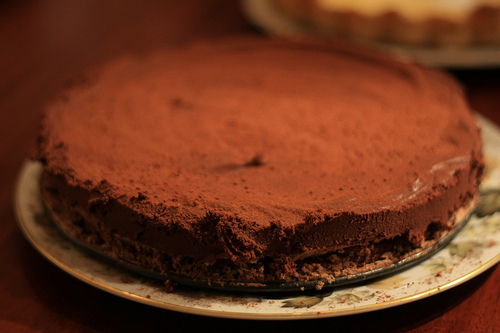 250 g dark chocolate dessert
3 egg yolks
20 cl of liquid cream
½ glass of milk
2 c. tablespoons of cocoa powder
1 shortbread dough
butter for the pan
Prep. Time → 20 min
Cook Time → 25 min
2. Put the shortbread dough in a pie pan.
3. Prick the dough with a fork and garnish it with parchment paper. Bake for 10 min.
4. Remove the tart from oven when it is barely golden. Let it cool and keep the oven on.
5. Pour the cream and milk in a large saucepan. Bring to a boil, then add the chopped into squares chocolate pieces.
6. Stir it on the heat until the chocolate is melted. Pour the mixture into a cold container and let it cool for a few minutes.
7. Add the egg yolks one at a time while whisking. Pour this mixture over the batter and bake for 10-15 minutes.
8. Let it cool before unmolding the cake on a serving plate. Sprinkle with cocoa powder before serving.
desserts, chocolate, dessert, tart, cocoa powder May 20, 2016 05:24
Author cookvibrant.com cookvibrant.com/chocolate-...
Share the recipe with your friends
No one has liked this recipe.
0 comments