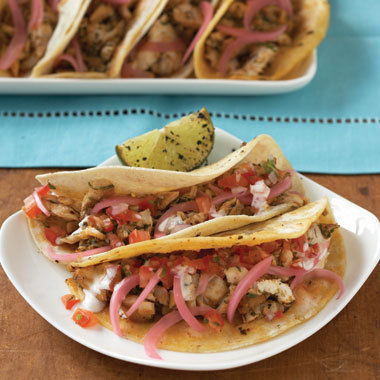 1/4 cup olive oil
1 1/2 teaspoons ancho chile powder
1/4 teaspoon cayenne pepper
1 1/2 teaspoons dried oregano
1 teaspoon ground cumin
1/4 cup lightly packed fresh cilantro leaves, chopped, plus more for garnish
1 jalapeño, stemmed and chopped
1 pound flaky white fish (such as mahi mahi, rockfish, or cod), cut into 4 pieces
Salt
8 fresh corn tortillas
Sour cream
Grated cheese
Chopped lettuce
Olives
1 lime, cut into slices
Prep. Time → 30 min
Cook Time → 6 min
1. Pour the olive oil into a small bowl and add the ancho chile powder, oregano, cumin, chopped cilantro, and jalapeño. Mix well. Place the fish on a dish and pour the marinade over it, making sure to coat the fish well on both sides. Allow to marinate for 20 minutes.
2. Place four of the tortillas on a plate and sandwich them between two slightly dampened sheets of paper towel or cover with a clean dampened towel. Warm tortillas in oven on lowest setting for ~10 minutes.
3. Heat a nonstick sauté or cast-iron pan over medium-high heat. Remove the fish from the marinade and place in the hot pan (there is no need to add more oil). Season the fish with salt. Cook the fish for 4 minutes undisturbed, then turn over, and cook for another 2 minutes. Remove the pan from the heat and flake the fish into the pan with a fork, making sure to mix in all the marinade that has stuck to the bottom of the pan. Check for seasoning and add more salt if necessary. Set aside.
4. Assemble and Serve: To assemble the tacos, place a heaping spoonful of the marinated flaked fish onto the center of a tortilla. Top with sour cream, cheese, olives, salsa, and lettuce.
5. Garnish with lime wedges and cilantro sprigs.
6. ADVANCE PREPARATION: The fish can be made up to a day in advance. When reheating, you may want to add about 1 tablespoon of water to make sure the fish does not dry out.
main courses, fish, mexican, tacos, dinner, quick June 17, 2014 03:05
Author epicurious.com/recipes/foo...
Share the recipe with your friends
No one has liked this recipe.
0 comments