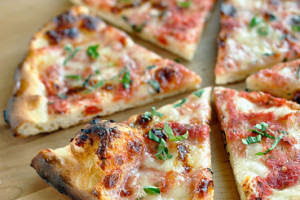 Ingredients
for Portion (s): 8
For the crust

– 875 ml to 1000 ml (3 1/2 to 4 cups) all-purpose flour
– 11 ml (2 1/4 tsp.) Yeast Fleischmann's pizza
– 15 ml (1 tbsp.) Sugar
– 8 ml (1 1/2 tsp.) Salt
– (1 1/3 cup) of hot water 335 ml (120-130 F/50-55 C)
– RIGHT BLEND Mazola oil 85 ml (1/3 cup) (mixture of canola oil and olive oil)
– Extra flour for rolling the dough
– Toppings
– 125 ml (1/2 cup) salsa, or salsa verde taco sauce
– 250 ml (1 cup) of meat tacos prepared
– (1/4 cup) 60 ml chopped green onions
– 500 ml (2 cups) shredded Colby-Jack shredded
– (1/4 cup) 60 ml coriander leaves
– Sour cream
Prep. Time → 20 min
Cook Time → 10 min
3. Prepare and preheat a coal or gas grill to medium-high heat.
5. Mix 2 cups of flour, undissolved yeast, sugar and salt in a large bowl. Add hot water and oil. Stir until well blended, for about 1 minute. Gradually add enough of the remaining flour to make a soft dough. The dough should form a ball and will be slightly sticky. Knead the dough for about 5 minutes on a floured surface, add additional flour if necessary, until its smooth and elastic.
7. Cut the dough into 8 portions. Crush or roll the dough on a well floured counter surface to round shape of 20 cm (8 inches) in diameter. It is not necessary to be perfect circles.
8. Step 4
image source: recipeforfitness.com
Carefully lift each crust with hands and place it on grill. Cook 3 to 4 minutes, until the underside is lightly browned and the top appears strong. Using long tongs, remove the crust from the grill and place the grilled side up, on a tray or baking sheet.
9. Step 5
Spread 1 c. tablespoon of salsa on grilled side of each pizza crust. Sprinkle 2 tbsp. tablespoons taco meat, 1 1/2 c. Tea green onions and 60 ml (1/4 cup) of cheese. Repeat for each pizza crust.
Step 6
Gently slide each pizza on the grill. Cook for 3 to 4 minutes, until the bottom of the crust is browned and cheese is melted. Remove from grill. Sprinkle with cilantro and sour cream if desired. Serve immediately.
10. Additional Instructions
To knead the dough, add just enough flour to the dough and hands to prevent the dough from sticking. Flatten the dough and fold it toward you. Using the heels of your hands, push the dough away in back-and-forth. Turn the dough in a quarter and repeat the steps "fold, push and turn". Continue to knead the dough until it is smooth and elastic. Use a little more flour if the dough becomes too sticky, always incorporating the flour into the dough. The dough (and not the individual crusts) can be prepared up to 24 hours ahead and kept covered in the refrigerator. Knead and roll just before grilling. Otherwise, the pizzas can be partially roasted in advance. Here's how: toast one side of the pizza crust. Then cool it. Wrap well and refrigerate until ready to serve. Spread desired toppings on top grilled pizzas and cook on preheated grill.
appetizers, health, pizza, healthy pizza September 17, 2018 17:04
Author https://organiclifetips.com/2013/...
Share the recipe with your friends
No one has liked this recipe.
0 comments